The Acer Spin 1 in Kenya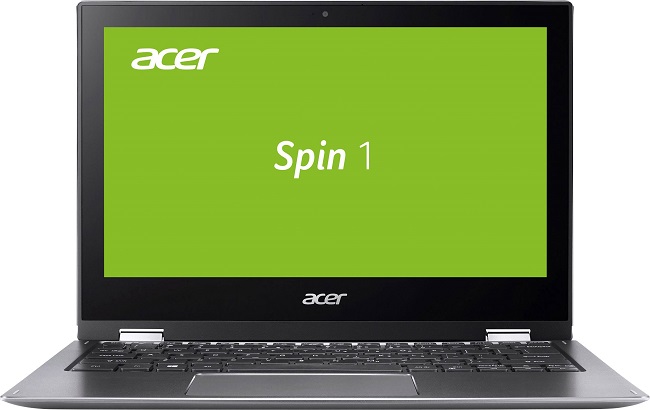 The Acer Spin 1 is one of the more affordable 2-in-1 laptops from the Taiwan-based company. The laptop computer can be useful in several ways, and it has the performance specs to boot. You also get a stylus that you can draw with on the display. It is important to state that all Spin 1 computers are made with the same capabilities. However, if you want the sleeker version rather than the thick one then you should watch out for model numbers starting with SP111-31, SP111-31N, and SP113-31.
The remarkable features of the Acer Spin 1
Sturdy build and high-end looks
Acer made the Spin 1 to bring this brand of laptops closer to a wide section of buyers looking for computer under $500. For this price, the company delivers a laptop computer with worth every penny. The outer casing is metal and not plastic as is the case with most units in the same class. The Acer Spin 1 looks tough and ready to handle a big workload. The lid is enhanced by a crosshatched pattern that matches well with the polished beveled edges. The PC also boasts one of the best screens in the market.  This is an 11.6-inch laptop with great features for the price, and arguably the best 2-in-1 laptop you can find at this price.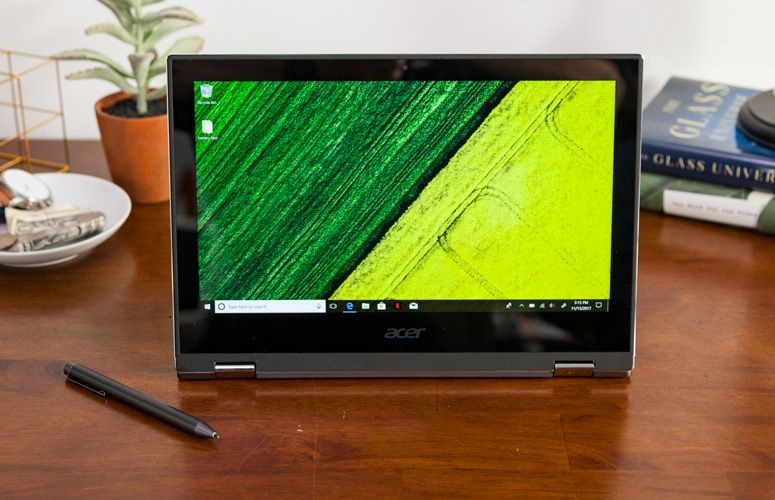 The Acer Spin 1 is miles ahead of its competition when it comes to design features. First off, the gunmetal-gray chassis is made from aluminum in a class of laptops where glossy plastic is the mainstay. Around the screen, the bezels are thick which only works to enhance the sophisticated look.
The laptop weighs 2.6 pounds, and with dimensions measuring 11.4×7.9×0.56, this laptop is meant to be ultra-portable so that you can take it with you anywhere. Competitors in the same class weigh about 2-3 pounds more and are a bit thicker. The Acer 11.6 inch laptop may take some getting used to when used by older folk who want something to balance on their laps.
Buyers looking at the sub-$400 range of devices always pay extra attention to the type of machine they are buying. That's because most manufacturers make a lot of compromises in the way of high-tech specs. You don't have to worry about that with the Spin 1.
Spin 1 includes a decent number of ports considering the size of it.  The left side is fitted with a USB 3.0 port, a full-sized HDMI port, and an SD card reader. On the right side of the laptop is the volume rocker, a pair of 3.5mm audio/mic jacks and a single USB 3.0 port. The USB-C is not present but this is notably a failing you expect to see with laptops at this price range.
The Spin 1 has a full-sized keyboard that is wonderful to type on. You will genuinely enjoy typing on this keyboard as we did. The keys may feel a little plastic but they are well sprung and do not have that irritating click sound. The key backlight is not present on this computer but you expect such specs to be missing at this price range.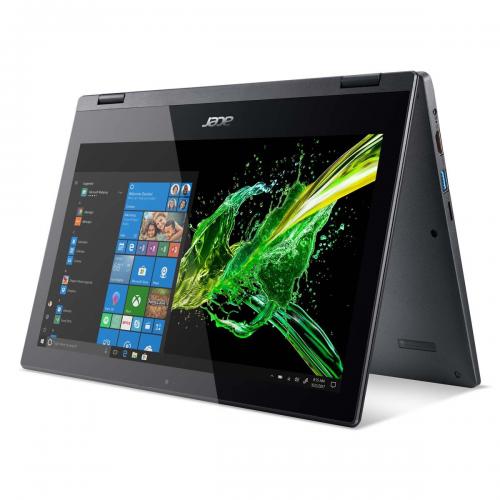 Acer's Spin 1 is one of the laptops in the market across all tiers with a high-quality display. The 11.6 1080p full-HD screen is the highlight and you notice this as soon as you switch the computer on. The screen also offers the best angles for wide viewing as it includes IPS technology. With a laptop such as this viewing angles serve you better than they would for a larger type of laptop that would typically be used in A-frame mode. In this case, you can view the screen from various angles and positions and you don't want poor tech to be the reason you're not enjoying your viewing.
The display has exceptional standards if we are talking contrast and brightness. The colors are also well-saturated, which means picture quality is beyond reproach. The laptop is much brighter than expected in dark rooms and that a complaint that you won't mind having considering the keyboard has no backlight. The screen is touch-sensitive and the 10-point touch technology use on this computer works seamlessly. You get a stylus pen when you buy this computer from stores. It will cost you $49.99 to get a replacement pen.
Not many of these 2-in-1 laptops come with a stylus pen when you buy them, and more often than not you have to buy the pen separately. When unboxing the Spin 1 you will find a stylus pen in the package with 1,024 pressure levels. The pen, aptly named the Acer Active Stylus, is the size of a normal pen. Holding the stylus in your hand you realize that it feels very natural. The feel of the stylus touching the screen may feel like touching the glass to plastic albeit slightly. In a more expensive 2-in-1, the stylus pen is designed to feel more like writing with a pen on paper, but that comes at a much higher price rate than $329.
Spin 1 is not the type of machine that can run large software so don't bother pushing it hoping it works.  The laptop comes with a circa-2016 Intel Celeron N3350 processor. This is just enough to keep you online and do some work on your Excel sheets and Microsoft Word. Light multitasking should be okay as it has 4GB RAM size. That double the size of system memory you get with those ultra-budget models with only 2GB RAM.
Having said that, you should be a bit patient when using the machine because the specifications are not the most spectacular. Benchmarks suggest that the N3350 Celeron CPU is almost as fast the Core i3 processor you find on your entry-level notebook computer. The Celeron processor doesn't take much to slow down and multiple browser tabs are one likely way to bog it down. This then means that you need to exercise patience when installing Windows 10 updates because as you may well know, those take forever to complete.
With 32GB of storage, the Spin 1 is not so badly off. You can learn to survive with this storage or you can always extend it to 128GB using the MicroSD slot, There is also the option to go for the 64GB or 128GB versions of the laptop which Acer has in stores but the value proposition does not seem worth it. You may have to pay about $100 more to get there, and that's if you forfeit the stylus pen.
Acer has made the Spin 1 ultra-portable but then you have to carry the charger with you if you plan on carrying it along on long trips. The laptop lasted 6 hours and 45 minutes on a single charge with Wi-Fi connected.  That may be enough to take you through half of the typical school day or let you finish up on some work that you brought home.
Pros
1080 touch display
Sophisticated finish
Cons
Heavier than others in its class
Low storage
Getting your laptop shipped.
There is a lot to contend with when buying your tech equipment in brick and mortar stores, most notably sub-standard quality. Since the advent of online shopping, you don't have to deal with unscrupulous sellers anymore. You can always order from the manufacturer and have your goods shipped to you no matter where in the world you are.
Buying your goods online, you also enjoy some discounts that make it even more of a bargain. Tech lovers in Kenya and the wider East Africa region can use such services to get their desired tech gadgets. KENTEX CARGO is a prime example of logistics companies that facilitate e-commerce. Customers can order and have their items delivered to them in the same week. Services such as KENTEX CARGO Express are there to serve both bulk and single-item buyers shopping all over the globe.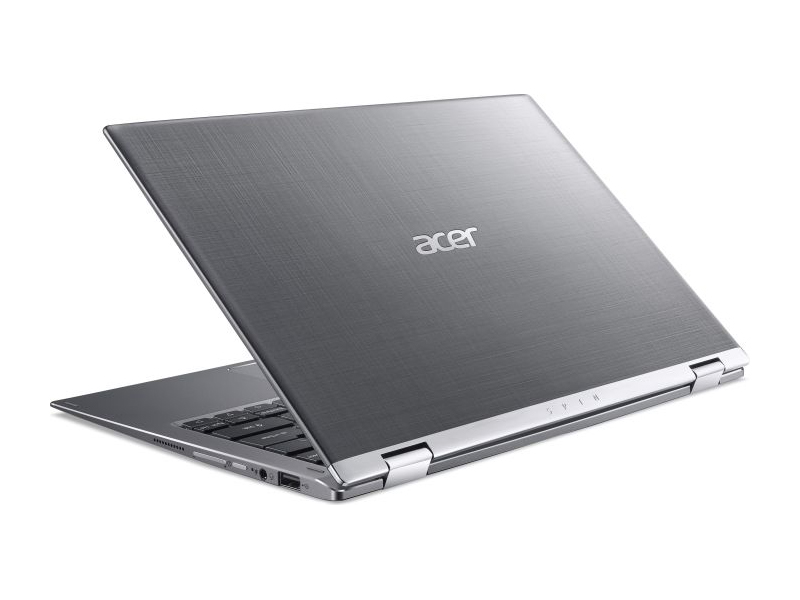 Bottom line
There is a lot to love about the Acer Spin 1, and the price is not so bad either.  For such a small package, you are getting value for money that many laptops in their respective classes may find hard to match. There are ports for all your typical connections and the display quality is always a good thing no matter the laptop you are buying. All in all, you will find it harder to get a laptop that competes with this one whether its value for money or functionality.