Buy Acer Swift 1 in Kenya from the US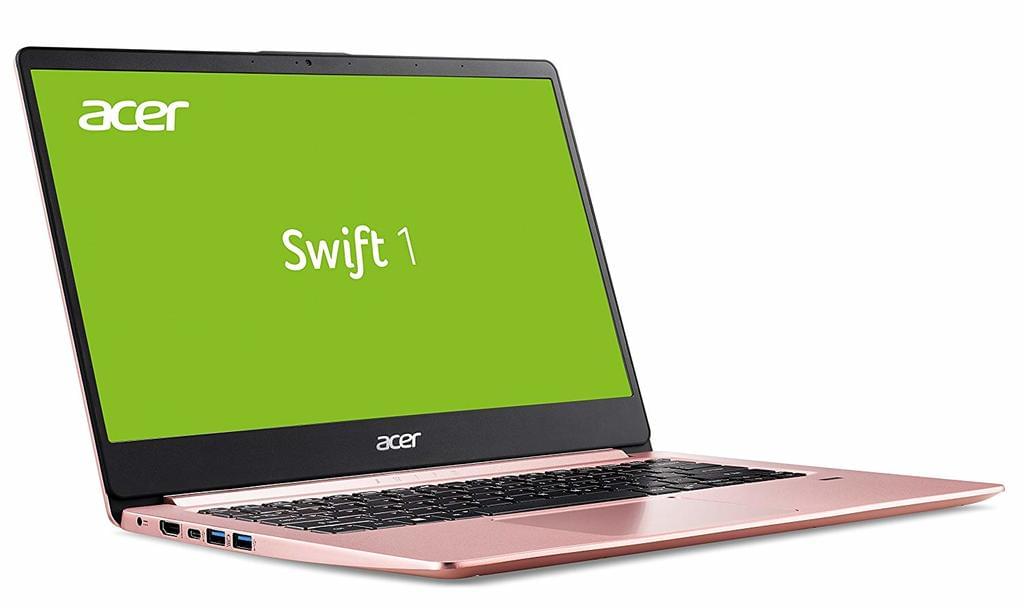 Acer Swift 1 Features
Design
The Swift 1 laptop has a smooth gray lid that appears interrupted by the reflective silver Acer logo at the center. The computer also has a massive touchpad along with the fingerprint sensor located beneath the black keyboard, which blends smoothly with the gray deck. You will find the design to be conservative, although the laptop has a class. Swift looks excellent and feels expensive, but that is never the case. The computer has a solid aluminum chassis that is made from quality material along with a display hinge that smoothly rotates when folding the screen. Still, the keyboard never flexes when pressure is applied at the center.
Ports
Rest assured that you will never experience any troubles when connecting peripheral devices to the Acer Swift 1. The ports are strategically positioned at the left corner of the laptop comprising of a USB 3.1 Type C input, HDMI port, DC in connector for input power and two 3.0 USB ports. In case you a photograph enthusiast, take advantage of the SD card slot that you can use when uploading photos that are positioned at the right side of the laptop next to the USB 2.0 port and the headphone jack. The laptop also has a Kensington lock that you can use to protect the laptop files when you are in public places.
Display
Acer Swift 1 has a 1080-pixel display that offers maximum clarity on the 14-inch screen; however, the panel is dim and dull; the clarity enables you to view individual raindrops on the screen. The display covers over 60% of the sRGB gamut and has better clarity compared to competitor laptops having similar specifications. The display offers a maximum brightness of 218 nits.
Touchpad and Keyboard
The keyboard has a travel distance of 1.1 mm, and the snap keys require only 65 grams of force when typing. The keyboard never flexes when banged at the center, a problem that you might experience on other typical laptops. The keys are appropriately spaced, offering some resistance that provides lovely feedback that never provides stiffness. Top row keys are smaller compared to other keys; therefore, you need to be careful not to press the power button that is adjacent to the delete key.
The 3 inches by 4.1-inch touchpad appears large, although the smooth surface has several Windows 10 gestures that include three-finger swipe that switches windows, and a pinch to zoom gesture that has no issues.
Audio
The Swift 1 laptop has some bottom fired speakers that are loud enough to be heard in a conference room; besides, they provide high-quality sound.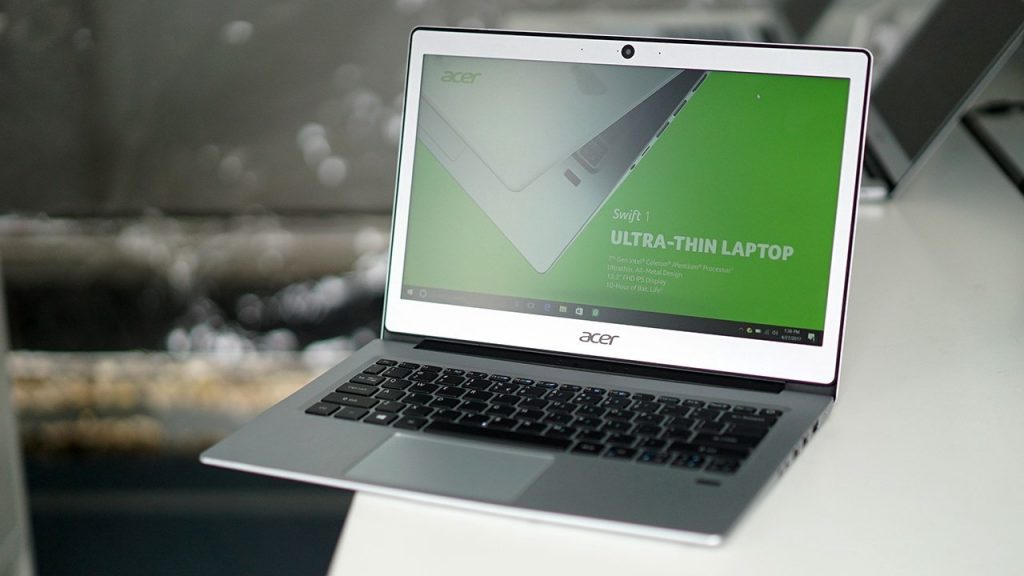 Performance
The laptop has an Intel Pentium Silver N5000 processor and comes with a 4GB RAM, therefore, offers you great value for money given the cost of purchasing this work of art. It is clear that flash drives are often slower than SSD, but the good news is that the 64GB eMMC storage found in Swift 1 appears to be the fastest among similar laptops. Acer Swift 1 has duplicated 4.9 GB of the media file in a minute for a rate of 65 MB per second that is relatively faster compared to competitor laptops. Besides, the laptop only requires 3 minutes when pairing over 60,000 names to addresses on an Excel Macro Test.
Graphics
Acer Swift 1 has an Intel Graphics 605 GPU that could frustrate you when playing modern games since the graphics are never that powerful. The laptop is perfect in case you do not find satisfaction in games.
Battery Life
The battery lasts 3 hours longer than typical laptop batteries; therefore, it would be of excellent service whenever you experience laptops; rest assured, your laptop will remain powered for a longer duration.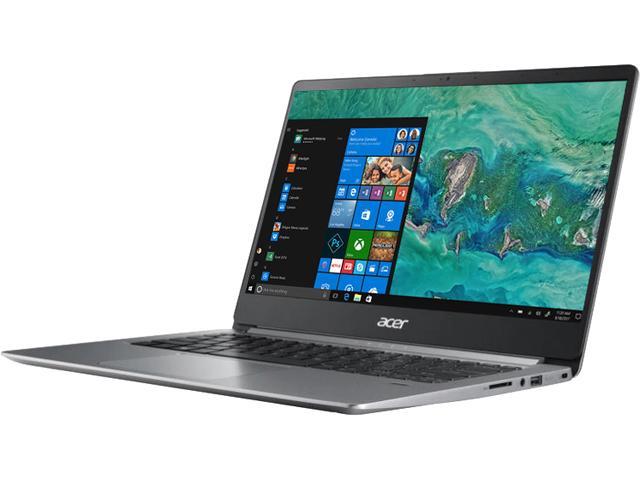 Web Camera
You expect a high-quality camera from any laptop you purchase. The 720-pixel lens on the Swift 1 laptop offers great quality pictures since the selfie camera generates a color-accurate and sharp image whenever you snap a personal photo. When using it, you will spot individual hair strands, and as usual, the camera produces some visual noise when taking a picture, but that is better compared to premium laptops in the market.
Heat
Acer Swift 1 uses low power that translates to low heat; therefore, when using the laptop, rest assured that the laptop will provide comfort despite performing tough tasks. You have probably experienced intense heat generated beneath the laptop, but with this laptop, worry not since the temperature is appropriately regulated.
Warranty and Software
The laptop comes loaded with software such as Acer Documents, Acer Product Registration, Acer Collection s and Acer Product registration. The documents contain warranty details and the safety files that are available in the file explorer. Collection applications gather the list of recommended apps from the Microsoft application store. You will notice some added programs in Swift 1 that are provided courtesy of Microsoft that include Disney Magic kingdoms, Candy Crush, Hidden City and Bubble Witch Saga. Besides, you will find Evernote, Netflix, Stage light (a music-making software), and Amazon already preinstalled. Acer Swift 1 has a one-year warranty.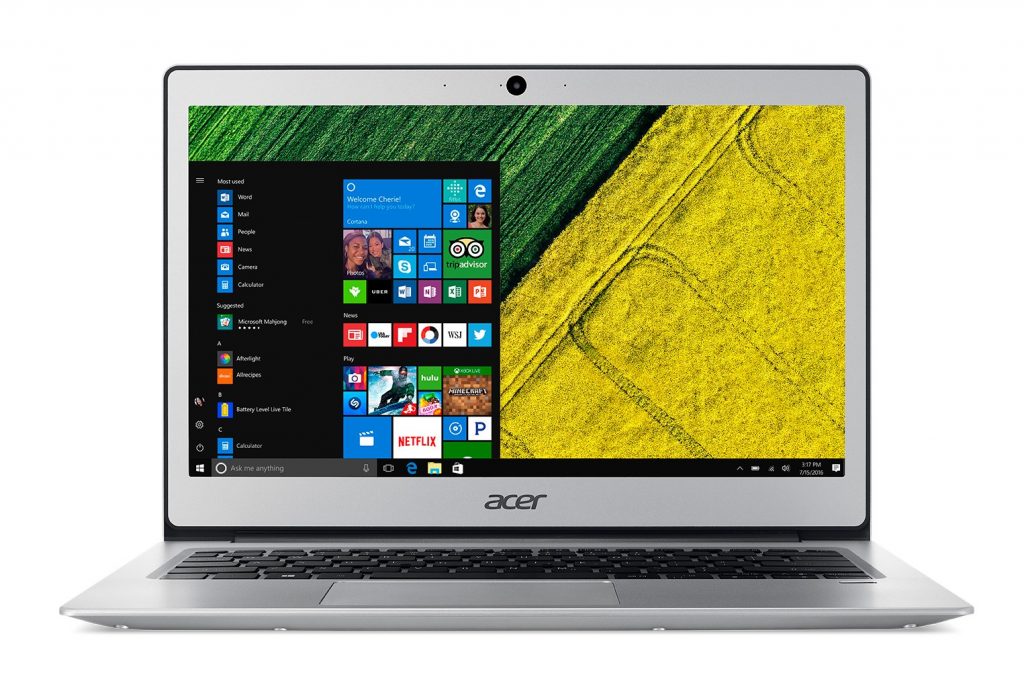 General Features
Configuration Options
The laptop CPU is the Intel Celeron N4000.
It comes with 4GB RAM
Has 64GB eMMC flash storage space.
It comes with UHD Graphics 600 GPU.
It comes with a 14-inch screen having a 1080-pixel display.
It comes installed with Windows 10 S, but you can upgrade to any Windows version.
Swift 1 only weighs 2.9 pounds.
The laptop's dimensions are 12.7 inches by 9 inches by 0.6 inches.
Generally, Swift 1 retains the lightweight and sleek design has a metallic chassis and is a significant improvement in comparison with laptops in a similar price range. Despite the aluminum design being the standout feature, the laptop also has a long-lasting battery that lasts up to 10 hours and a snappy keyboard.
Pros
Acer swift is thin and budget-friendly.
It has added features making the laptop more attractive compared to competitor systems
The laptop has a light aluminum chassis
Acer Swift has numerous ports.
It has a decent web camera.
The laptop offers excellent value for your money.
The battery lasts as long as 9 hours when charged.
Cons
The laptop has a dull and dim display.
It has limited storage space that may require force you to purchase external disks.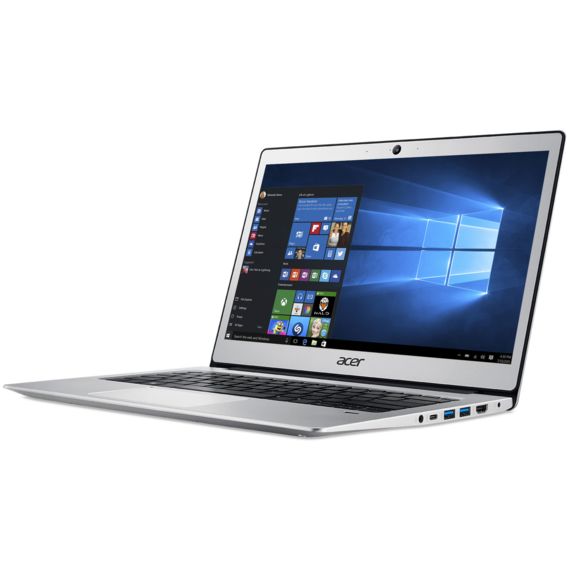 Reasons why you should purchase Acer Swift 1 from the USA then ship it to your doorstep via KENTEX CARGO
It is a complicated process to decide on the perfect courier service that you can use to deliver the Acer Swift 1 laptop from the USA to your preferred destination. There is no need to worry since KENTEX CARGO company provides domestic delivery, international parcel delivery, pick up and return services to all customers.
You are advised to prioritize KENTEX CARGO given that we specialize in international parcel delivery; therefore, we would be a suitable link, and besides, we have a vast network and a multitude of partners who enable smooth operations. It is important to note that KENTEX CARGO has some basic rules that must be fulfilled, such as parcel should be less than 31.5 kg, and the dimensions of the package should not exceed 120 cm by 60 cm by 60 cm.
KENTEX CARGO offers you faster delivery of parcels that ranges between 1 to 3 days; this happens to be faster than competitor carrier service providers. Besides, the carrier provides an end to end transparent system while conveying your laptop since they use tracing software that will provide you with a pre-delivery notification. Finally, KENTEX CARGO delivers an insurance policy on lost items; therefore, you do not have to worry about losing your smartphone.