Buy Best TVs from the USA to Kenya
Are you looking forward to buying a TV for the first time or just to upgrade to the new and the latest? Well, it may be a little dwindling and confusing task considering the jargon used to describe modern technology.
You will come across words such as QLED, OLED, HDR, HDMI 2.1, Smart LED, 4K, 8K, Ultra HD and much more that will make it an uphill task for you to select which TV best suits you. We have tried our best to simplify this by explaining each television in layman's language.
The list below consists of the best modern TVs that we hope will deliver quality for your money. It will also be easy for you to scrutinize them carefully then you can go ahead with making an informed decision.
When ready with buying, we can help you get it directly from the USA, you just have to email us with your details and the choice of the television you want, and we will definitely revert back to you with a proforma invoice.
The televisions below have made to our list of the best televisions on the merit of how much it costs (price), Display, design, technology among other features that you will come across as you read on.
1. TCL 3 Series 
Best budget smart TV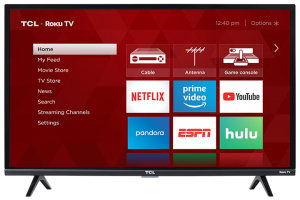 TCL 3 Series comes in the following sizes to choose from, 28, 32, 40, 43, 49-inches.
The company does not produce larger inch television in large quantities in this series of the TCL making suitable for either kid's room, kitchen bedroom or office.
Features summary
Display – A glance at the 32 inc model comes with 720p
Resolution is at 1366 by 768
The aspect ratio of 16:9
Mount of 100mm by 100mm
Thinner bezel
The port – This model has enough ports to cater for all needs.
3 HDMI Ports
Headphone and coaxial ports
Audio and USB ports
Wi-Fi
Bluetooth
Interface – This model of TCL has a simple interface that makes it easy to use even when streaming online, it comes with Roku readily installed making it easier for you to access the channels online.

Finally
With the help of the Roku operating system, the TCL 3 Series is a smart TV that has all modern streaming features, it's a good TV for those on budget.
Price
32-inch TCL TV prices in Kenya will vary from Kshs. 24,500 for a LED TV and from Ksh. 31,500 for a Full HD Smart TV.
Should decide to buy it directly from the USA (which is the best option), you are sure of saving so much on this, The 32-inch TCL Smart TV prices on amazon.com start from Kshs. 12,100.
2.Vizio M8-Series Quantum
Second-best budget TV

VIZIO is a trusted brand, it's not just known for its powerful and elegant Soundbars, but also in their beautifully designed TVs.
The company strives to incorporate new technology in their designs at the same time make their products affordable.
Vizio Quantum has a combination of style and affordability, TCL on the other hand, has been elevated to that level because of its incorporation of Roku and color quality a little better-compared to the Quantum.
That said, let's delve into the nitty-gritty of the Vizio Quantum by looking at its summarized feature details.
Features summary;
Display – Thin bezel at the top of the screen that slightly increases at the bottom.
LED LCD
LED Backlight – Full array with dedicated light
4K Resolution
Thinner bezel
The port – This model has enough ports to cater for all needs.
4 HDMI Ports
1 USB Port
Ethernet port available
Audio output port
Stereo Analog output port also available
Picture Quality – The VIZIO M8 series quantum has a  better picture quality backed with the full array that can be likened to its peer in the high-end TV category.

Finally
The VIZIO Quantum remains the second-best considering its general performance and price, it is good for anyone who's looking for a nice display to complement their living room at an affordable price.
Price
Buying it locally will cost you at least  68,500 for a 55-inch TV.
On amazon.com, there are chances of saving big, the 55-inch TV trades from Ksh. 45,00.
3. Samsung Q70R series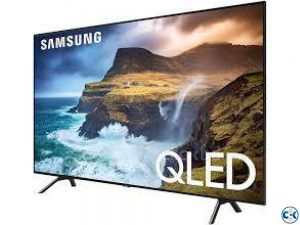 In the high-end TVs category, the Samsung Q70R Series leads by value.
Samsung has produced OLED TVs and QLED TVs like this one as I promised you before, don't get confused with the names, QLED is a term mostly used by Samsung but is just the same as LCD.
The QLED is just on top of the class from its fancy looks to strong performance.
The available sizes in the market are 49 inches, 55 inches, 65 inches, 75  and the 82 inch TVs.
Features Summary
Samsung has never disappointed when it comes to sleek designs, there's no exception in this case. Some notable features are the reduced bezels, the back has been improved to form a curve and the remote control is just a thing!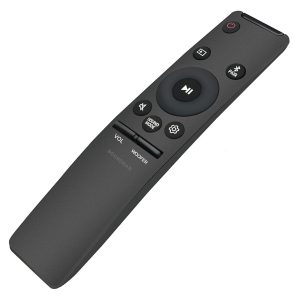 The remote control has an additional voice control feature called the Bixby that helps you control the TV hand free. Bixby is the top-most button on your remote control.
The most surprising yet important addition to this TV is the ability to function with Apple products.
Display Technology
LED LCD
LED Backlight – Full array with dedicated dimming
HDR 10 and HDR 10+ compatible
Smart TV with Tizen technology
Standard remote with voice control options
The port – This model has enough ports to cater for all needs.
4 HDMI Ports
2 USB Ports
Ethernet port available
Audio output port
Stereo Analog output port also available
Finally
The Q70R Series has up to 4K or 120 Hz resolution, this is important especially for the gaming enthusiasts, it is also compatible with gaming consoles such as the Play Stations and the Xbox.
My advice to you is to go for it.
Price
If you decide to buy the Samsung Q70R Series in Kenya, you will be required to part with at least KSh. 215,000 for a 65-inch.
Buying Samsung Q70R Series from the USA is the best option, you will save thousands of shillings and you are sure of getting the original TV with a dedicated warranty.
You can search for it from different online stores in the USA. ebay.com has a bargain. It is currently trading at Kshs. 115,000 on amazon.com.
4. LG B9P series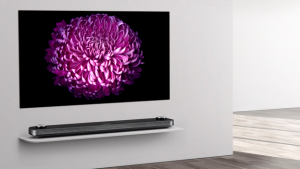 The B9P series it is an OLED TV. Are you on a tight budget and you are looking for the best high-end TV? LG OLED B9P Series is the TV of your choice, the following are the available sizes 55 inches, 65inches, and the  77 inch TV.
When it comes to high picture quality, go for an OLED TV, you won't be disappointed, but they are not cheap either. The category of the OLEDs The B9P series is the cheapest, go for it, in fact, you will thank me later for that.
LG  B9P series is fully HD, compared to the LCDs the OLED are so powerful in performance, clear display that can be easily watched from the sides.
Features Summary.
Display Technology
OLED
No Backlight
4K Resolution
HDR 10 plus the Dolby Vision
The smart TV runs on Webs OS
Motion controlled.
The port – This model has enough ports to cater for all needs.
4 HDMI Ports with HDMI 2.1, HDCP 2.2
3 USB Ports
Ethernet port available
Audio/ Video output ports
LAN Port available
Headphone jack
RF port
Channels
With LG's Web Operating System, rest assured of something amazing, the channels are well-arranged makes it easy to browse through and select.
It comes with Netflix, Amazon, Disney Plus and Vudu, that is not all, it has an option for you to add an extra streamer should be in need of many more channels.
Finally
LG B9P series is the TV you don't want to miss while watching for your favorite movies, playing games or displaying advertisements.
My advice to you is to go for it.
Go to any online store in the USA
Select the TV
email Kentex cargo
You will get it delivered to your doorsteps.