MacBook Pro 13 inch (2019) price in Kenya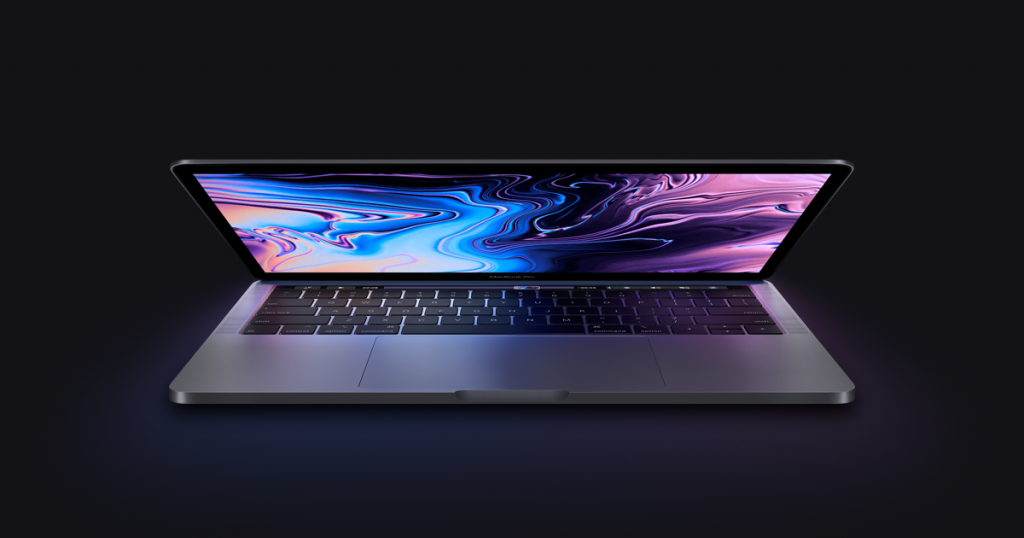 Over the decades, Apple Inc. has been committed to empowering all its users. This is evident through its great innovation in software and hardware computer devices as well as accessories. The Apple computing world has changed the way people communicate, think, work, and learn.
MacBook current line-up consists of MacBook Air and MacBook Pro. The MacBook Pro is one of Apple's higher-end laptops designed in different sizes and weights. The current generation of 13-inch MacBook Pro was launched in October 2016. It's lighter and slimmer than 3rd third-generation MacBook Pro. Apple upgraded the high-end MacBook Pro 13-inch entry lever in July 2019.
Many other models come in different sizes, colors, and weights. When MacBook Pro 13 inch (2019), you need to consider all the features and select depending on what suits you. The main features include design, display, performance, battery life, durability, and cost. Our Team at KENTEX CARGO closes this bridge for you as we are good at reviewing the features. Shipping the laptop from the USA to Kenya is cost-effective instead of buying locally. We will assist you in this and ave it delivered to you.
Design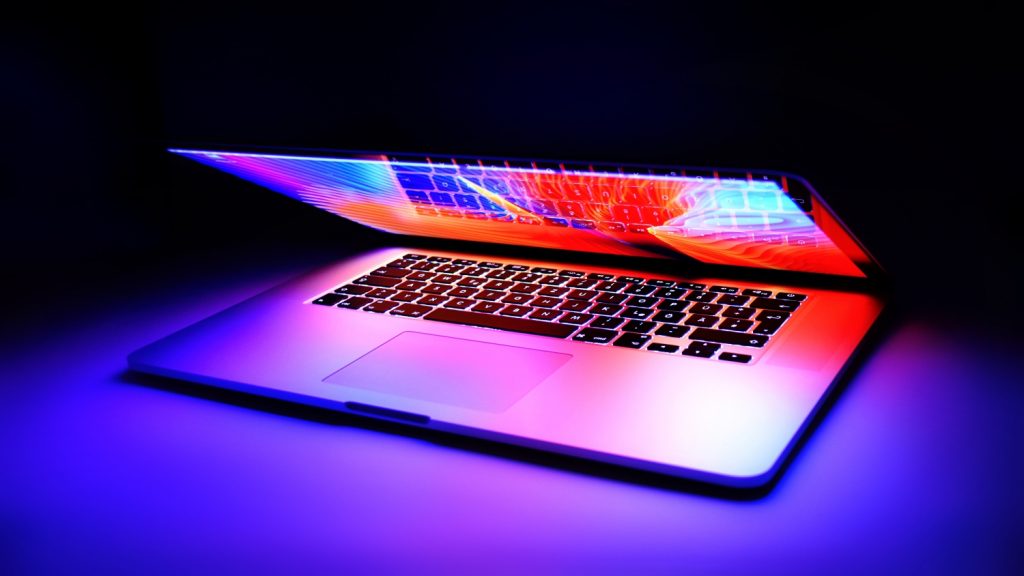 MacBook Pro 13 inch (2019) model was launched in 2019. It features Touch Bar with Touch ID, quad-core processors, T2 Security Chip, updated butterfly keyboard, and True Tone display. It comes with a full-size backlit keyboard with 64 (US) or 65 (ISO) keys with four arrow keys.
There are new key dome metals and membrane materials under the keys. They are slightly different than previous versions. The materials make the keys feel a little softer than the earlier ones. There is no much key travel, but they are quieter than the 2017 model MacBook Pro.
This MacBook Pro ultraportable laptop is available Silver-colored aluminum or darker "Space Gray" aluminum body. It weighs 1.37kgs, which makes it quite portable.
The butterfly keyboard design is not comfortable for many users. The key switches travel at a very short distance which hinders speed. It may have challenges down the line. However, when it does, Apple offers to repair it at no cost for four years from the time of sale.
Display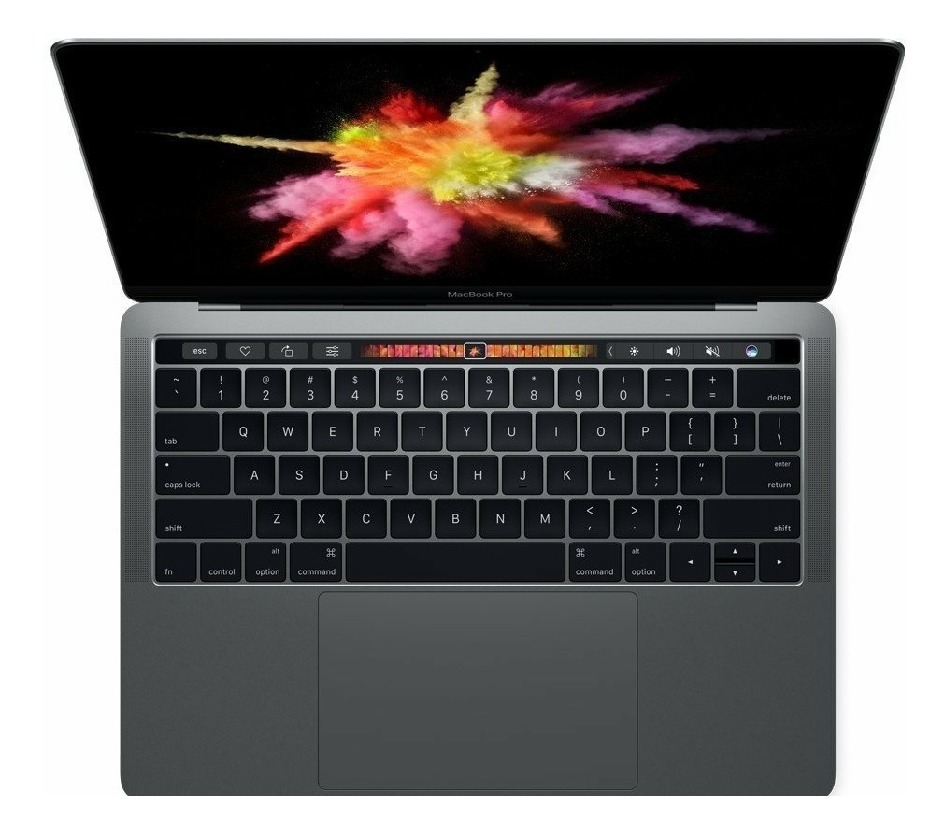 This MacBook Pro 13 inch (2019) has a brilliant display with excellent colors. The Retina Display has a wonderful contrast and can display more colors than many competing screens. Bravo to its support for the P3 color gamut instead of the most common sRGB ones.
The best physical features that your face sees once you open the laptop is the Retina Display and the giant Force Touch trackpad. It uses an LED backlight for it to achieve a maximum of 500 nits of luminance.
These results in very satisfying firm text and super colorful graphics and images. The screen automatically adjusts its color temperature to match the environment's ambient light. This makes the viewing experience more comfortable. It has a True Tone feature which you can turn on or off in the system preferences app to improve the display quality.
Storage and Memory
MacBook Pro 13 inch (2019) base model is upgradable. If you want to upgrade the RAM or SSD, the cost shoots up a little. To upgrade MacBook Pro 13 with 16GB of RAM, and 256GB SSD, it will cost you $1,600. This is on the mid-tier, four Thunderbolt 3 port. A MacBook Pro 13 inch (2019) with a slightly better processor, two Thunderbolt 3 ports with only 8GB of RAM costs you $1,799.
If you are a professional in Photoshop work or video editing, this MacBook Pro suits you. The storage could be small at 128GB, but you can get an external SSD, network storage, or a cloud service to compensate for this need. It cost less than upgrading this MacBook Pro 13 inch with Apple.
Specs and Performance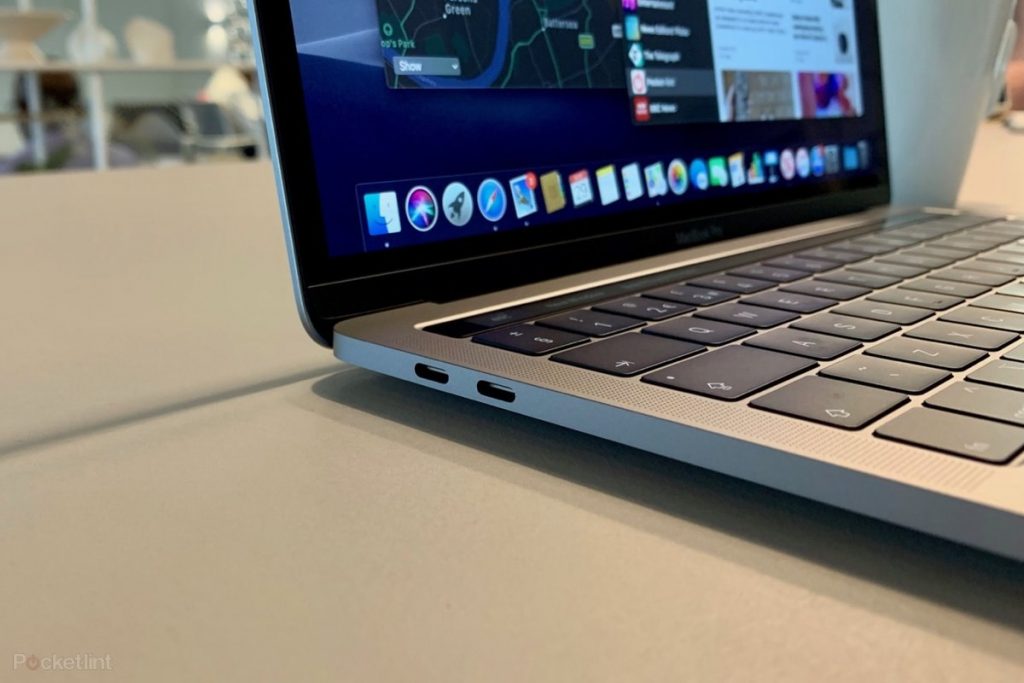 This MacBook Pro 13 inch (2019) packs a very fast Intel Core i5-8257U, with a processing speed of 1.4GHz eighth-generation. It has 8GB of RAM and a 128GB SSD. For the price of $1,299, the storage is not enough as seen above.
Geekbench 4 is a synthetic benchmark that measures the overall performance of different computers and laptops. When MacBook Pro 13-inch was measured, it got a score of 17,366. This is more than double on MacBook Air. It also surpasses the XPS13 which got 14,936, and the Spectre x360 got 14,935.
This Pro has one of the fastest SSDs in a laptop. On speed tests done by Blackmagic, it got a write speed of 1,220MBPs which is slightly higher than MacBook Air at 1,011MBPs.
The unique Touch Bar serves as an alteration touch input method. The usage of Touch Bar varies as it depends on if the app you are using is compatible with it. Most users using Safari and Adobe Creative Suite intensively use it. It helps in opening bookmarked web pages.
The MacBook Pro 13 inch has a fingerprint reader next to the Touch Bar. It supports Apple's Touch ID protocol. On top of this, you don't require a password to log in to your macOS account. There is also authentication for Apply Pay transactions and App Store purchases. This feature for Fingerprint sign-in is convenient as it saves you a lot of time.
Most companies don't give priority to Touchpad on the laptop. It is an essential component of a laptop. For Apple, it is quite different as all its laptops come with a Force Touch trackpad. It is very accurate and helps the motion of the fingers register with high accuracy.
MacBook Pro 13 inch (2019) base model has two physical input/output ports, a pair of USB Type-C ports on the left edge and AC Adapter. Both the ports support Thunderbolt 3 speeds up to 40Gpbs. It lacks video output, no USB Type-A port, no SD Card Reader, and no slot. This is a big con for most users. You need to dig deeper into your pocket to get connectivity at extra cost.
MacBook Pro 13 inch has Wireless connectivity of 802.11ac Wi-Fi and Bluetooth 5.0. Good enough for your Wi-Fi connectivity and transfer of files to other devices using Bluetooth. However, it has no support for the nascent Wi-Fi 6 standard.
MacBook Pro 13 inch comes with Intel's Iris Plus 645, which is rather good at performing adequate video editing. With super-fast 256GB SSD, 8GB RAM, you are good to go.
Software
MacBook Pro uses the macOS operating system. macOS Catalina has new dedicated apps for podcasts, music, and TV.
Speakers
The MacBook Pro 13 inch (2019) speakers have not changed a lot, but they are a bit smaller. The sound is almost the same as the 2017 model. For a small laptop, they perform quite great. They are excellent with YouTube videos, movies, and music. Apple continues to offer the best of high-quality speakers.
Battery Life
MacBook Pro 13 inch (2019) base model can consistently give nine to ten hours. It lasts longer than MacBook Air at 8 hours 51 minutes. You can browse the web, write on Google Docs in Safari, watch movies, and even YouTube videos comfortably. Starting at $1,399, it is worth the cost. This is an excellent entry-level to Apple's MacBook Pro line. The specs may not be high-end, but this base model is great for your daily tasks of editing photos and videos.
Pros
• Two Thunderbolt 3 ports
• Slim, light, and beautiful
• Excellent trackpad
• Long battery life.
• Excellent Display.
Cons
Highly-priced even at starting configuration.
Connectivity is limited for peripherals in lower-end models
Limited connectivity for peripherals in lower-end models.
It has No vertical travel on polarizing keyboard.
Bottom line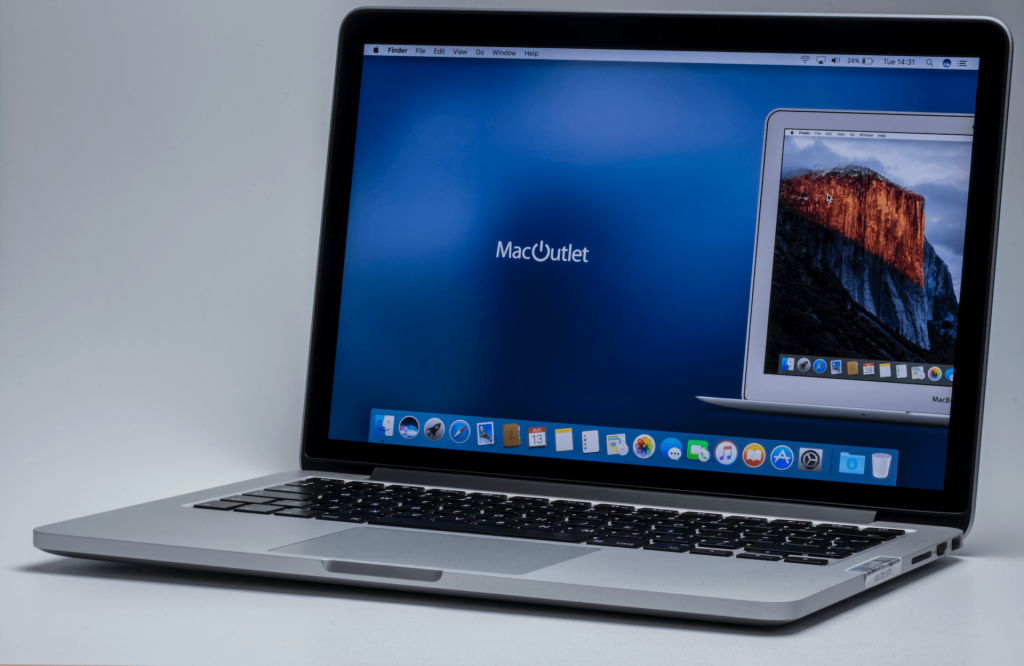 MacBook Pro 13 inch (2019) offers a better value than MacBook Air for a starting cost of $1,299. You have a brighter Retina Display, faster processor, and longer battery life for your cash. If you prefer thinner and lighter designs, don't like TouchBar and less work, you can go for MacBook Air at $1,099.
This MacBook Pro 13-inch base model is an exquisitely designed ultraportable with high performance on your everyday computing assignments. It will last all day long without plugging. It is the laptop most users will go for as it is a general-purpose laptop.
There is a downside on the keyboard, but Apple Inc. has offered to take responsibility at no cost. This is within four years from the time purchase.
When it comes to storage and memory, it is upgradable. You can choose from a Core i7 processor or Core i9 CPU. And while you get 16GB of RAM at entry-level, you can upgrade up to 64GB of memory.
With this sleek, silver-design laptop, no plugging all day long, MacBook Pro 13-inch 2019, is the way to go. The cost is perfectly the best for this laptop. Make your order today with KENTEX CARGO and have the laptop delivered to you from the USA to Kenya. The cost is quite reasonable.