Get What You Need Shipped From USA to Kenya.
Access Top Original USA Brands
Dear Valued Customer,
Shop & Ship anything you want from the USA to Kenya securely with Kentex Cargo. Cheapest, Fastest, Secure & the most reliable shipping company from USA.
Over the last 5+ years, Kentex Cargo has become the leader in helping customers in Kenya to access top USA brands. You can access any store you want in the USA using our shop & ship service and we will deliver your goods anywhere in Kenya.
Most importantly, it is safe, fast and secure and your delivery is 100% GUARANTEED or your money back
Benefits
Avoid fake or counterfeit goods. Buy directly from the source (example, Nike.com hp.com)
Save money by avoiding travel headache, expensive air tickets & hotels
Save your friends & families in the USA the headache. They may not tell you but they don't like being sent. We are here to serve you
Spend more time building your business, not unnecessary traveling.
Shop any store online and we'll handle the rest for you.
Can't order goods online in the US while in Kenya? We can help you do it & deliver
Want to shop at different stores? We'll repackage & consolidate for you – FREE
Want to start or grow your business? USA products sell as everyone is running away from fakes
Please Note
Until further notice, we have suspended household ocean cargo (shipping by the container) to Kenya. We, however, can handle Homogenous commercial scale goods by the ocean.
How it Works
While in Kenya several shopping & shipping options are possible. Please read all these options to decide which one fits your needs well.
 You are able to use your own credit card online to shop USA stores.
In this case, you need to have your goods delivered to our warehouse to be forwarded to Kenya. You will need to address your packages to your own name and your one Kenyan phone number, then our warehouse address.
Go to any website you would like to order goods from and add your items to cart.
Proceed to check out and fill in your billing information.
Please note that your BILLING ADDRESS is YOUR BANK address in Kenya NOT our US warehouse address.
Next, you will be asked to put the SHIPPING ADDRESS. This is where you input our address.
Please note that different websites have a different format of inputting shipping and billing address. See the example below for Amazon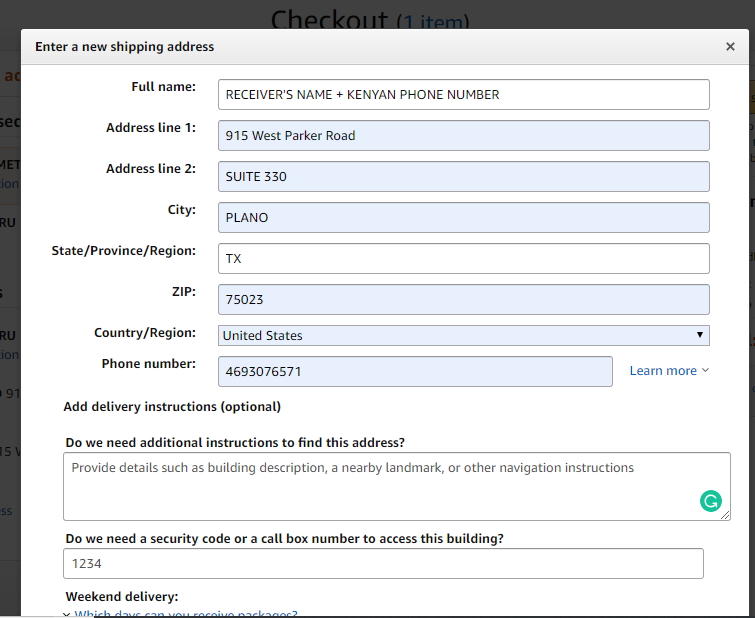 Your Loved One(s) or Family in the USA is Shopping for You
In this case, you will need to let your family member know how the process works. The person who is shopping for you needs to use the same address format. See how diaspora shipping to Kenya works. You also can share this link with them.
Your packages should be addressed to
RECEIVER'S NAME + KENYAN PHONE NUMBER
915 WEST PARKER ROAD, STE 330
PLANO, TX 75023
Shop & Ship Service to Kenya
Shipping Only
Shop your favorite USA stores online and use our USA warehouse as your shipping address.
We consolidate & repackage for you for free
We deliver in 14 business days. Certain restrictions apply
We deliver for free in the upper part of Nairobi
Outside Nairobi, we use Fargo Courier & Modern Coast
Let your friends & family know how Kenya diaspora shipping works.
Shop & Ship Service
Send us all your shopping links or fill out our order form
We'll send you a formal quote for your approval
Pay locally using MPESA or Bank draft (Cash not accepted in the office)
The purchase confirmation will be sent within 24 hours
We'll deliver within 14 business days. Certain restriction may affect this time.
Frequently Asked Questions