Buy Acer Aspire 5 in Kenya from the US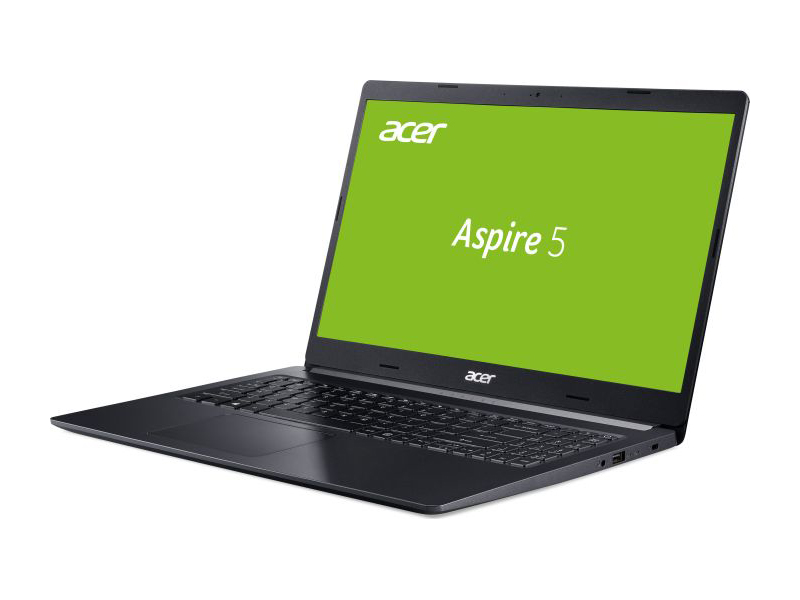 Acer laptops are one of the top brands worldwide, and they bring out valuables that tend to fit not only the user's needs but also their budgets. They are mid-sized laptops that tick all boxes. Aspire series by Acer got introduced in 2017. They are personal computers by Acer. The main models are Aspire 1,3,5 and 7.  They cover both the desktop and the laptops. Aspire E 51 and Aspire 5 are similar and different at the same time.
Acer brand is mostly known for LED displays and backlight over LCD. It is also a renowned label since it offers robust, dependable, and cost-effective laptops. Whatever one's budget is, Acer has them covered. Acer over time has been famous for innovation as it gave us the slimmest laptop, Swift 7, and because of this, they have won a lot of awards for several years for change. For instance, the Taiwan Excellence 2019 and the CES Innovation Honoree awards.
It was ranked number 4 in the 2018 best laptops review, dropped down a few places in 2019 but got back to its feet in 2020 as it has gotten ranked number 3. Acer has a good reputation concerning designs. They have also won awards for their product design in the Design Award 2019. Acer got awarded for VGO, Swift 7, Predator Triton 700, Predator X27, Holo 360, Predator X34, Predator Orion 9000, and Aspire S24. It is also known for excellent customer services since their customer care people are only one call away to attend and help one if they have any problem with their products.
Acer Aspire 5 laptops got released in April 2019. It is a pocket-friendly laptop that offers excellent features. It has a premium tasteful, silver aluminum hood. The emblem is metallic and stands out of the lid, while the interior is classy with a silver deck and dark keypad. The bezel on the screen is exceptionally narrow for such a pricey laptop. Aspire 5 is thinner than its competitor, the HP 14 laptop (DF0023CL), which weighs in at 3.1 pounds.
It weighs less, and it is cheaper than the Aspire E 5i, which is significant in terms of pounds and 15x 10.2 x1.2 inches. When comparing Aspire 5 and Aspire E 5I.  Aspire 5 is sleeker, has a silver design with aluminum top cover while the E 5i is chunkier, has a synthetic build with a black, micro-sticked lid. They have so many similarities, but the differences are also noticeable.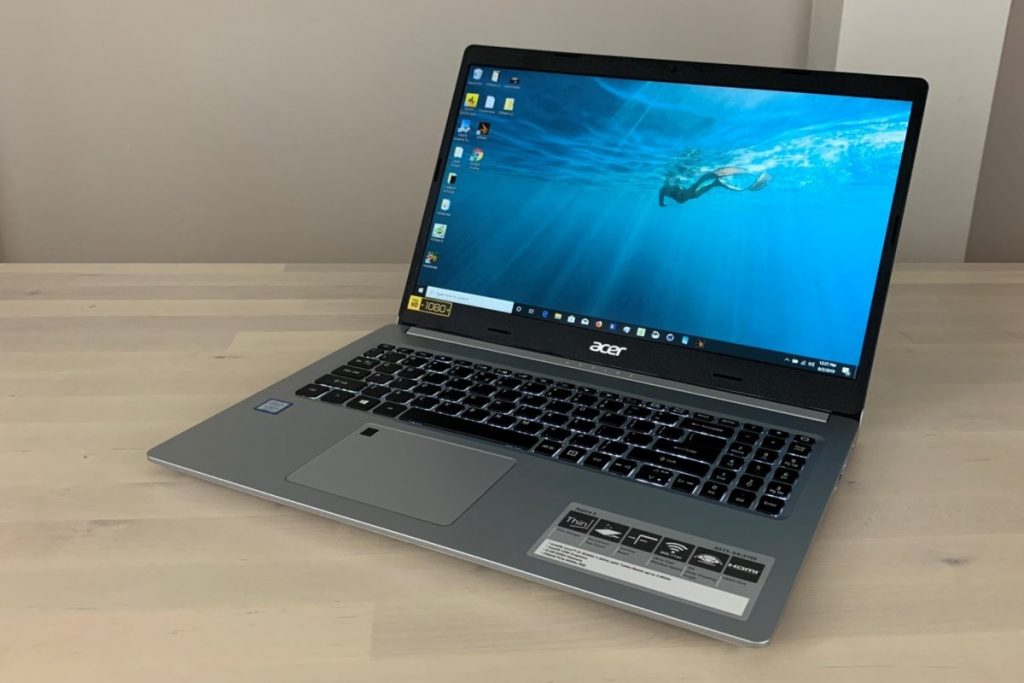 The Features of  Acer Aspire 5 include;
Display
It has a 15.6-inch monitor, and it is 0.7 inches thick(18 mm)
Processor
Dual-core Intel Core i3 to a quad-core i5 -82500 (up to 3.4GHz) and it uses Windows 10 home(64-bit) system software
Weight
It weighs 2.20 kg(4.85pounds)
Dimension
It constitutes an ultra-thin aperture of only 5.58 mm thin hence a screen to body ratio of 87.6%. The dimensions are 2.16 x38.16 x 26.3 cm
Memory and Storage
Aspire 5 has a double memory of 8 GB DDR4 2667MHz and storage of up to 256 Gb SSD
Ports
On the left part of the laptop, there is a power jack, an HDMI port, two USB, 3.1 ports (one with power-off charging), and a USB Type-C port.
The right part contains a Kensington lock slot, one USB 2.0 port, and a headphone jack
Screen Type
The display is an FHD widescreen with a LED backlight
Keypad and Touchpad
It has a full-size island-style numeric keypad. The keys are slightly shallow at 1.2 millimeters
The touchpad is 4.2 x –inch, and it offers a satisfactory soft texture
  Audio
It has DTS sound speaker, integrated stereo
Acer True Harmony Sound
Camera
Acer True vision webcam with a front-facing 720p
Aspire 5 also has a microphone
Battery
It has 1 Lithium Polymer batteries 3220 mAh
Four-cell 48WHr
Wireless
Aspire 5 has a gigabit Ethernet Wi-Fi and Bluetooth 5.0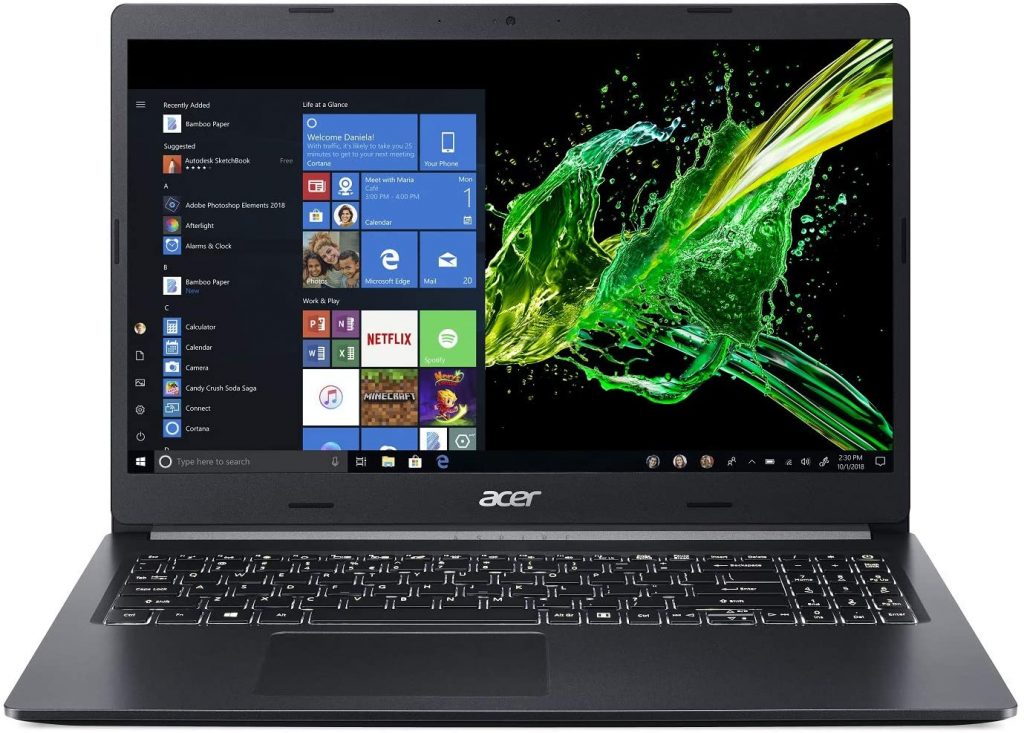 The Pros of The Acer Aspire 5
It is affordable than most laptops with the same features
It has delightful and bright colors
It is suitable for both work, home and school purpose
It remains cool even after working under pressure
It has a comfortable keypad and touchpad
It is a simply designed laptop
It is suitable for gaming
It is a sturdy build quality
The Intel speeds up the most significant capacity harddrive
It has a strong performance
The Windows 10 has apps like Bubble Witch 3 Saga, Candy crush friends saga and Nitra do
The hinges are engraved with a sleek and silver that makes it smooth
It has vibrant colors on its 1920 x 1080 matte screens
The elegant designed with black ridges
The weight is evenly distributed, and it mostly goes unnoticed
It has a long battery life with up to 11 hours with continuous usage of the web through Wi-Fi at 150 nits of brightness
Portable
The mic is high quality
A wide selection of ports
Fast processor
Substantial memory and storage, particularly concerning the SSD, and USB-C port.
It is quick and reliable
It is a fantastic laptop for multitasking
The touchpad works so well; it gets a fingerprint reader built into it
It has a 1080 display of brightness
The Cons Of Aspire 5
The audio-bottom- firing speakers, are mediocre
Surface susceptible to fingerprints
Performance of the AC adapter (discharging of the battery under full load)
There is no enough key travel and a right feeling when bottoming keys out on the deck
The webcam is poor one can not use it for skype
It is smaller than the previous version, but it still is very bulky
Defensive hardware issues
In the last version, the lid was too flexible, but in this one, it is rigid may be due to the aluminum
There is no touch in the screen
It has no Windows 10 Hello mechanism
The keyboard is not backlit
Verdict
It is evident in the advantages and the disadvantages that Acer Aspire 5 is a fantastic laptop since the pros outweigh the cons. Intel recently launched its 8th generation CPU in the market for both desktops and laptops, and Acer is one of the first-rate organizations that have facilitated their laptops variants with this upgraded intel core processor.
Among various leading brands, Acer is the one who has started selling their Aspire 5 series laptops, powered by 8th generation Intel Core CPUs.
Aspire 5 has turned out to be a must-have laptop since when one takes it along with them whether to school, work, or on adventures, it tends to give them confidence. It has a tight built up that does not expose the creaks.
Acer Aspire 5 is not available in Kenya, so one can only purchase it in the United States of America. Aspire 5 is available purchased on Walmart, and it goes for $379.00. On Amazon, one can get the Acer Aspire 5 slim laptop 15.6-inches full HD IPS screen, AMD Ryzen 3,2000U, Vega 3 Graphics, 4 GB DDR4, 128 GB SSD, Backlit keyboard. Windows 10 in S mode, A515-43-R19L for only 313.40 USD.
If one purchase Aspire on Amazon, they will get a year guarantee, which is just one of the many reasons to buy this laptop with Amazon and other stores in the United States of America.  Other reasons are;
One is sure they will get a quality laptop. The USA is known for selling high-quality electronics in comparison to Kenya
In terms of cost, the Acer Aspire 5 goes for 87,300, which is equivalents to $851.15, while the same laptop costs $379.00 on Wallmart. One can guarantee they will get a good Acer Aspire 5 at an affordable price and also get a discount when they purchase it in the United States of America.
In Kenya, the interests rates are very high, but in the United States of America there are no taxes and interests rates
I would highly recommend anyone who wants to buy this fantastic laptop to purchase it in various stores in the United States of America and have it shipped to your doorstep through KENTEX CARGO. By using KENTEX CARGO, one is sure of the safety of their goods as it is getting shipped since they warrant the valuables that they are sending. Secondly, one will save themselves the trouble of having to deal with go-betweens and having them ask for more money and thirdly goods will be delivered one's doorstep.