Buy Acer Switch 5 in Kenya from the US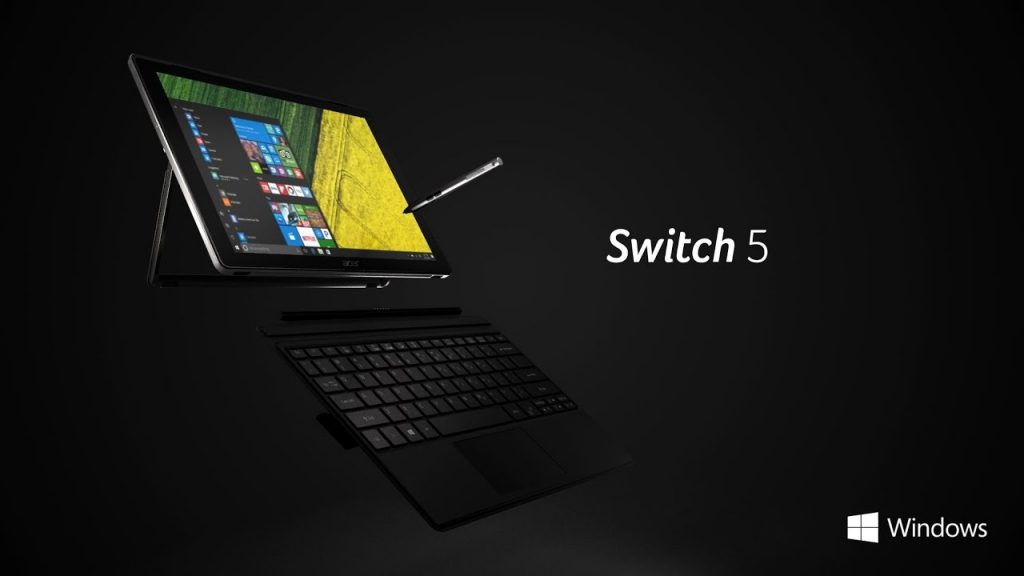 If you find an elegance in dark colors, the dark grey case on the Acer Switch 5 will definitely have you taking some time to find out more about the device. The case can hardly get any scratches and any smudges it may get can be wiped off easily. The Acer Switch 5 maintains its look long after you start using it.
The power button on the Acer Switch 5 has a fingerprint reader. The fingerprint feature not only makes it fast and easy for you to unlock your device, but it also does so without compromising on security. It ensures that you don't miss out on anything while your laptop takes time to unlock.
The volume and power buttons of the laptop are on its left side. On the right side you will find the power-in port and two USB ports; one 3.0 Type-A and the other 3.1 Type-C. The Acer Switch 5 has a 1MP front camera and a 3MP rear camera. The micro SD reader is uniquely placed above the front camera. The Acer Switch 5 also has a kickstand at the back to improve your experience especially when you are using it in tablet form.
You get a snap-on keyboard when you buy the Acer Switch 5 at no extra cost. The keyboard is backlit and has good spacing between keys. Typing on most surfaces is made a whole lot easier more so when using the keyboard. Once attached, the keyboard is well secured and it cannot come off unless you take it off. The keyboard also doubles up as a screen protector ensuring that your screen does not get any damages.
The device quickly transforms from a tablet to a laptop with just a snap. If you want to use the Acer Switch 5 as a tablet, you could either detach the keyboard or simply fold the keyboard to the back to disable it. In this form, you will use the touch screen. The screen is sensitive enough so you will not struggle when using the Acer Switch 5 in tablet form. You will definitely enjoy using a device with such options.
The Acer Switch 5 has great features and its specifications include;
5GHz Intel Core i5-7200U processor (dual-core, 3MB cache up to 3.1GHz)
Intel HD graphics 620
8GB DDR3 RAM
12-inch screen QHD (2160 * 1440) IPS touchscreen
256GB Intel PCIe SSD storage
Ports- one USB 3.1 Type-A, one USB 3.1 Type-C, micro SD and audio
Connectivity- 802.11ac and Bluetooth
3MP rear and 1MP front cameras
Weighs 2.79 pounds/ 1.27 kg
Size- (W * D *H) 11.49 * 7.94 * 0.62 inches / 29.2 * 20.18 * 1.59 cm
The benefits of using the Acer Switch 5 include;
Great for daily use in the office or at home
You can multitask without slowing down the device
Acer Switch 5 uses Liquidloop cooling technology so it does not overheat
Good display on the screen
Its battery can last for over 8 hours
The buying price is inclusive of a keyboard
The keyboard is backlit
You get a laptop and tablet experience from the same device
The Acer Switch 5 has a stylus
Pros and cons
Pros
The Acer Switch 5 is 11.49 * 7.94 * 0.62 inches big and weighs 2.79 pounds. This makes it very easy and convenient to carry around.
The laptop does well when used in various settings. The fact that you can multitask without having any performance problems makes it even better.
The stylus is included in the initial price and makes typing and drawing on the screen a lot easier.
The detachable keyboard is sold as part of the Acer Switch 5. The keyboard is backlit and well-spaced to give you a good experience when using it.
Having a touchscreen and a stylus makes this device appropriate for basic drawing. If you are an artist or wish to explore your artistic side, the Acer Switch 5 will work perfectly for you.
The 256GB available storage space will allow you to save some data and even have some apps on your device without slowing it down.
The Acer Switch 5 does not use the traditional fans to cool it down. It instead cools using Liquidloop cooling technology. This technology works by the laws of condensation so your device will not overheat even when used over long hours.
The lack of cooling fans also makes the Acer Switch 5 uniquely different from devices. It is totally silent as you use it. Fans may be a bit loud especially when a laptop is not placed on a good surface.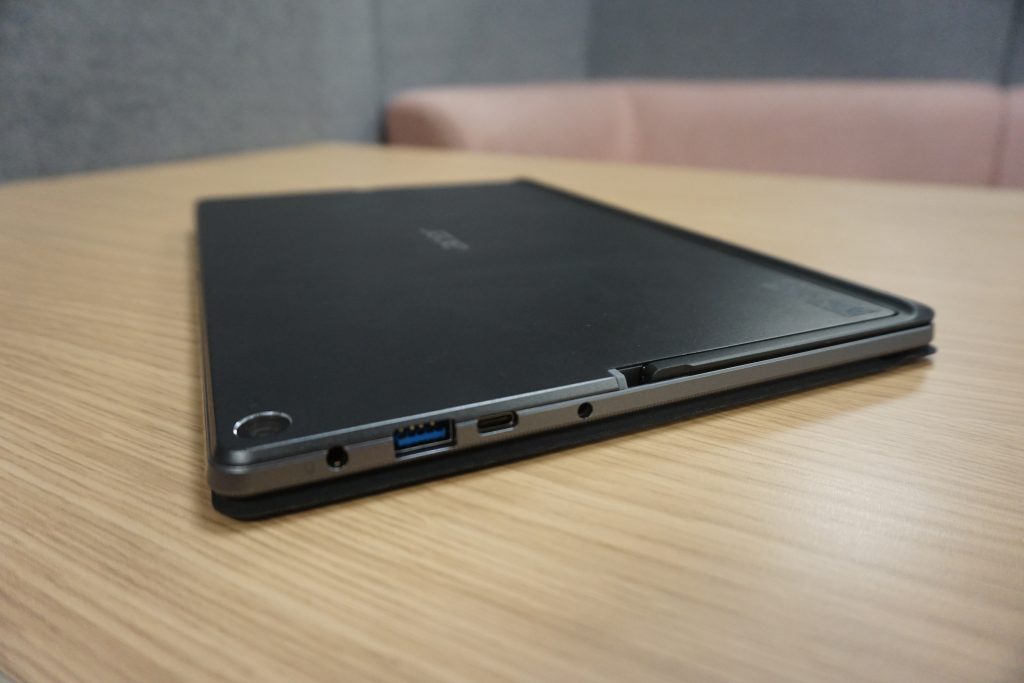 The battery of the Acer Switch 5 can last all day. This means that you may not have to carry the charger if you are going away for 8 hours or less. It becomes even easier if you intend to carry your laptop around.
Cons
You can hardly use the screen outside because it doesn't have much brightness to adjust. It is better suited for indoor use. This factor will mostly be hindering if you have to use the device when outside.
Detaching the kickstand can be a hustle so you will have to be patient when doing it.
When using the Acer Switch 5, you will prefer to use earphones for clarity if you want to listen to something. The inbuilt speakers are not the best.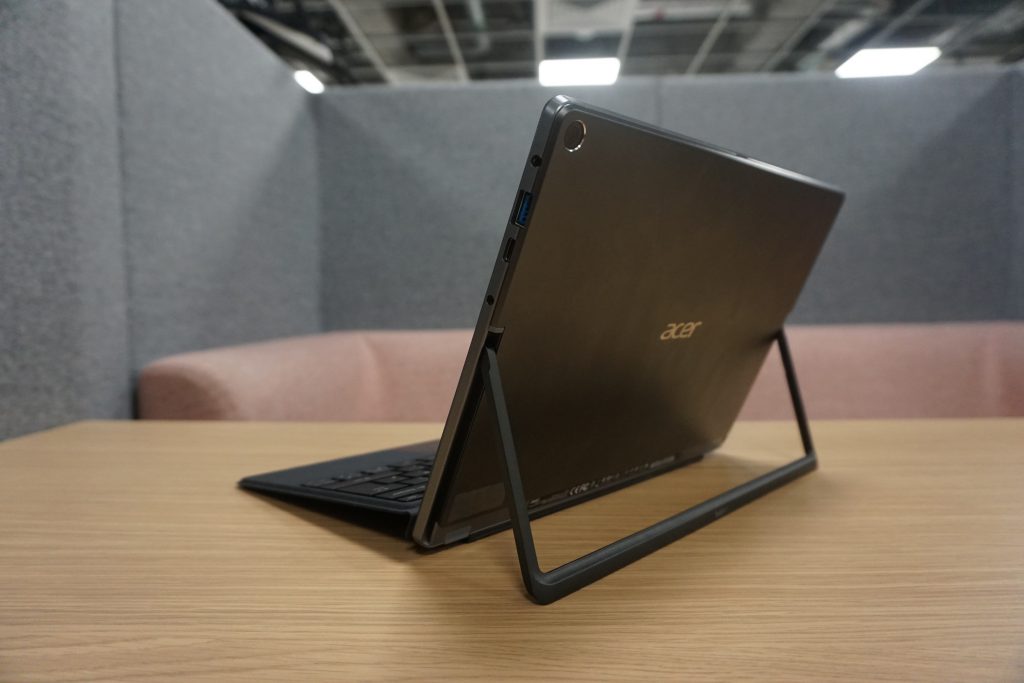 Competition
In comparison, the Acer Switch 5 is a lot like a budget Microsoft surface pro. You will get some good features yet it will not cost you as much as it would if you were to buy the Microsoft Surface Pro. The Microsoft Surface Pro particularly has better brightness. The low brightness, however, helps the Acer Switch 5 in increasing its battery life. The bottom line is that you should get what works best for you without having to spend too much.
Intended target
The laptop has features that make it suitable for anyone who needs some quick work done. It could be a student taking notes or an artist sketching something they have in mind. Its versatility appeals to many. The Acer Switch 5 is also very portable because of its size and light weight of 2.79 pounds. It could be a favorite to those who travel a lot. It has adequate storage space so you can store your data for later use. The storage also makes the Acer Switch 5 suitable for you if you want to install apps on your laptop.
Purchase information
You can buy the Acer Switch 5 from anywhere around the world. You could use KENTEX CARGO as your courier and buy the Acer Switch 5 from the United States while in Kenya. When buying such a product, it is important for you to be sure that you are getting an original. Electronic products are some of the items that are prone to imitation.
KENTEX CARGO has strict policies against counterfeit goods and their policies could also protect you as you shop online. You will enjoy the benefits of working with this shipping company at no extra cost.  In addition to this, you can be sure that your laptop will be delivered at your doorstep in good time and condition. You will find it very fair to pay for shipping with KENTEX CARGO considering the peace of mind that comes with it.
Verdict
The Acer Switch 5 is a great high-quality product. It can manage daily tasks without having any problems. It is an excellent choice if you like moving around with your laptop. The downside is that while you can move with it you cannot comfortably use it outside because the screen will be too dark. If you are not a fan of using earphones, you may not enjoy listening to music or watching movies on the Acer Switch 5. The images, on the other hand, are something to look forward to as they are very clear.
When you buy the Acer Switch 5 you will get a good keyboard and a stylus. You will not incur an extra cost. The internal storage space will also ensure that your device does not slow down when you are using it. This is a good device to invest in regardless of what you want to use it for because of its versatility. Considering its features, the Acer Switch 5 sure is cost-effective.