Buy Acer Switch V10 from the US to Kenya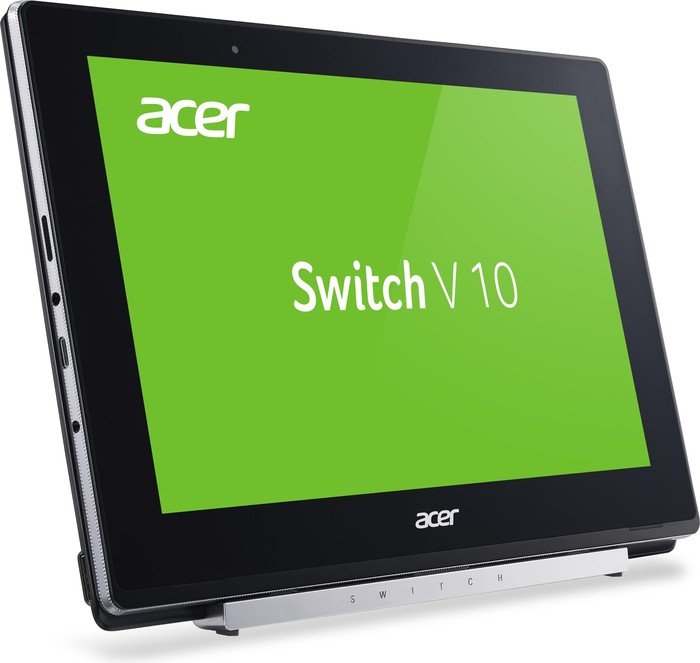 Since its debut in the international market, Acer company has continued to impress lots of its users with their great worth laptops. Acer laptops are stylishly designed and integrated with up-to-the-minute features that provide thrilling functionality.
Today, many people like convenience in their devices and that is why there is a gradual evolution of laptop designs lately to meet customer's needs. Acer Switch V10 is the newest people's favorite 2-in-1 in the market convenient to everyone because of how it has been thoughtfully designed. The fact that the laptop is slim, portable, easy to operate, elegant, has outstanding features touchscreen and detachable makes it very user-friendly.
Because of its small size with a screen display of 10.1 inches the devices may have some compromises to accommodate all its features and perform exceptionally well. However, its high-end features and specifications will make you overlook its limitations. This detachable laptop is among the first low-cots 2-in-1s in the market meaning it retails at a favorable price.
Acer Switch V10 Review
Specifications Facts
Make: Acer
Body Material: Brushed Metal
Hard Drive: 64 GB
Type of Hard Drive: eMMC SSD Flash Memory
RAM: 4 GB
RAM Type: DDR3
Operational System: Windows 10
Computer Processor: Intel Atom x5-Z8350 Quad-Core
Speed of the processor: 1.44 GHz
Graphics: Integrated Intel HD Graphics 400
Screen Size: 10.1 inches
Product Dimensions in length, width and height: 7.4 x 10.3 x 0.8 inches
Weight: 1.20kg
Battery: 3770 MaH, 2-Cell Lion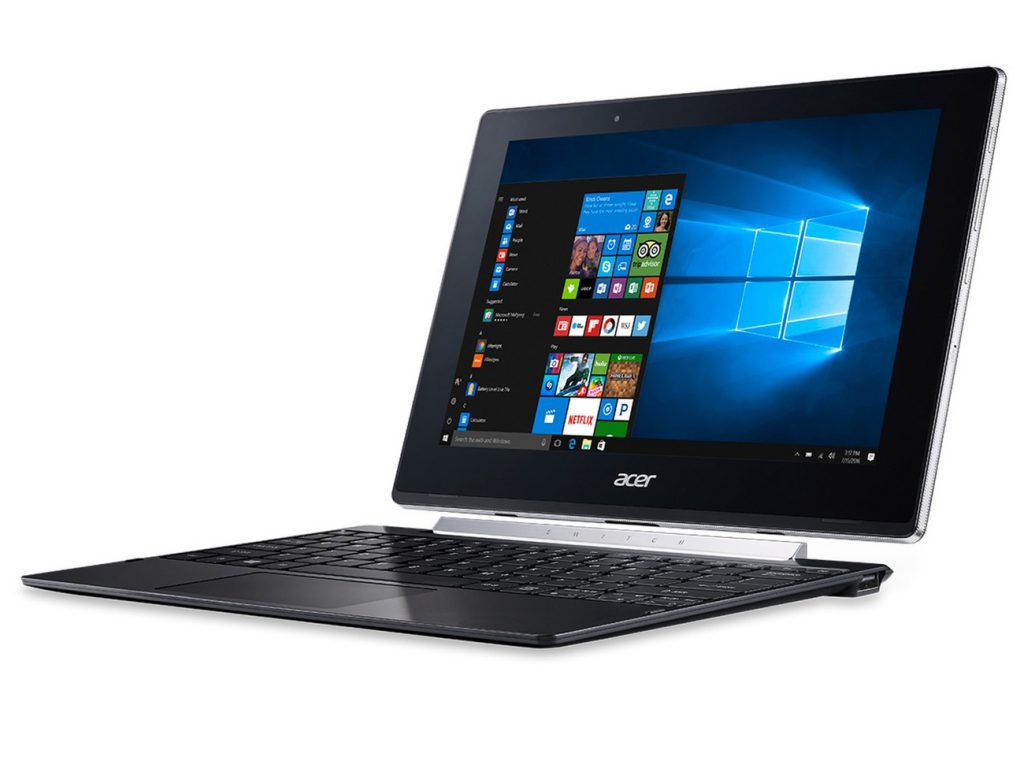 Key Features;
Case Design
Acer Switch V 10 detachable notebook is multipurpose, and it is intended to be used in various modes such as a tablet, stand, laptop, and tent. Having a device that you can detach the keyboard and display to use it as a tablet is irrefutably an outstanding feature. Its modernized features and design keep inspiring you to navigate everything effortlessly.
The removable system of the laptop does not seem to have any significant weaknesses. Its body material is made with a firm brushed metal to increase its durability. The edges of the device are needed, which adds a sense of class and uniqueness on the laptop.
The dominant color is black, but the outer case is adorned with some beautiful silvery accents that make it look bold from all angles, beautiful and has a stunning tactile feel. Additionally, the laptop is slim-built to fit in your pack and easily portable. With the dimensions of 10.3x 7.4x 0.8 inches and heaviness of 1.20kg, it is easy to move around with.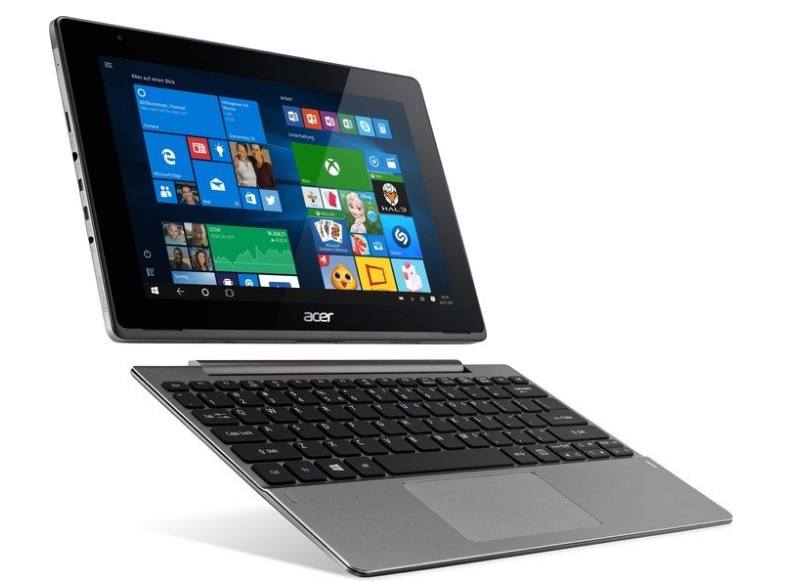 Display
The Acer Switch V10 has a resolution of 1280×800 pixels in its 10.1 inches touchscreen display. The laptop has a decent contrast percentage with a brightness level of 238.6cd/m2 despite its smaller screen. This brightness level is above average and people with delicate eyes should not fear to experience headaches.
The HD-LED display rear light frequency is 877Hz which is comfortable to the eyes even when working in a poorly lit environment. The notebook has steady viewing angles which make the display look perfect when viewing it from different positions. Because of the reflective surface of the screen, working on outdoor settings with direct sunlight may be dreadful.
Acer Switch V10 Performance
Acer Switch V10 is fitted with an Intel Atom x5-Z8350 processor that has a frequency of 1.44- 1.92 GHz and a 2MB cache. Despite its small size, this processor is a beast and performs well for light office tasks and browsing the internet. Its chipset runs its turbo on AC power mode and battery mode equally enabling it to perform top-notch without any noticeable lag.
The general system performance is designed to run basic tasks and internet-based applications. Therefore, its weak performance is visible when it tries to run more demanding tasks. Unfortunately, it is not likely to replace or modify the hardware to improve the overall laptop performance.
Storage
Acer Switch V10 has a hard drive of 64GB which is more than enough for such a smaller laptop. Out of the 64GB, about 43GB is available for the user to store essential files. If you wish to increase the storage space, inserting a microSD card may be helpful. This detachable laptop also comes with a 4GB RAM and you can comfortably open multiple browsers and software and do multiple activities without any hassle. The 4GB RAM is more than enough for light tasks.
Ports and Connectivity
Acer Switch V10 does not have many ports. However, it is loaded with essential orts and connectivity to suit your basic needs. It comes with one USB 3.1 type-c port, one USB.0 type-A port, a power port, a headphone/microphone jack port, and a memory card reader slot. All these ports ensure you enjoy a fast data transfer. The laptop also has an in-built WLAN unit that supports the Wi-Fi 802.11 standards for fast wireless performance.
Graphics Card
Acer Switch V10 is loaded with a reliable graphic processor to meet your gaming requirements. An Intel HD Graphic card is integrated to enhance your video playback, photo/video editing, and light gaming. Its gaming performance is good for playing ordinary and light games, for example, those found at the Windows Store on your laptop. Games that require a lot of hardware may not be playable.
Speakers
Acer Switch V10is fitted with stereo speakers that are positioned sideways of the front edge of the tablet casing. The sound is of good quality despite the small size of the device. However, the bass tones can hardly be heard. To improve sound quality, consider using headphones or external speakers.
Battery Life
This notebook model has a 2-cell 7450mAh Li-ion battery that can run steadily for almost 9 hours without the need to charge it on moderate usage. This run-time is enough to handle your everyday workload in time.
Keyboard
The Acer Switch V 10 keyboard is flat with toughened keys that have a small travel distance. The keys have visible click-points that produces a crispy tactile response while typing. The keyboard has a sizeable touchpad that is super sensitive and works perfectly. In general, it is a good keyboard that functions well.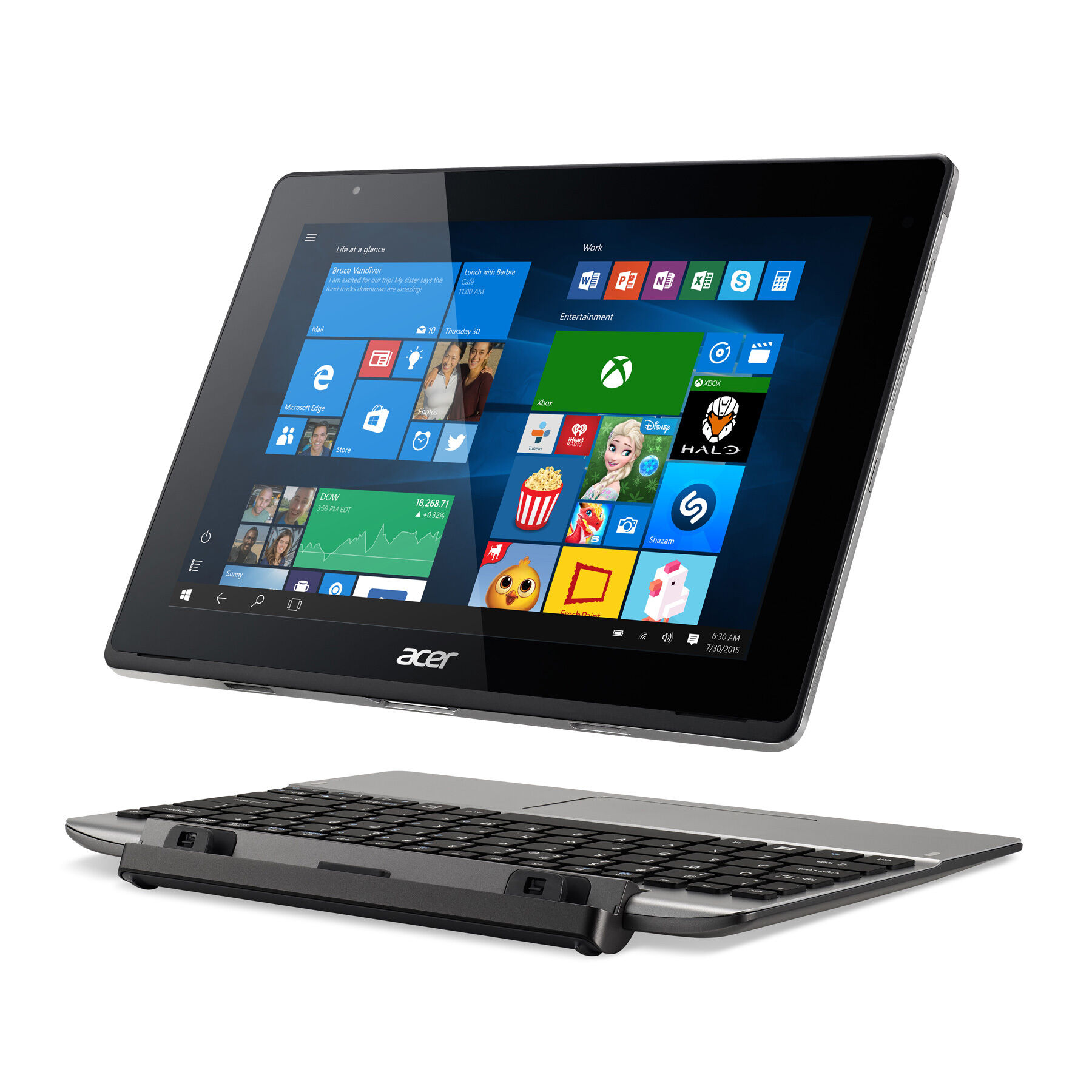 Other Features
At the front panel of the screen is a webcam with average quality resolution. The HD webcam captures clear images for video calling and video conferencing.
Another additional feature is the fingerprint scanner that enhances your data security. It enables you to sign in to your laptop one-touch by scanning your fingerprints. This is a quick method of signing in to your PC rather than typing in a password.
Pros
Operational in four modes i.e. tablet, laptop, tent or stand mode
Portable
Quality speakers
Has a scratch-resistant Gorilla glass
Excellent design
Cons
Lacks enough USB ports
180-degree screen mode
You cannot change the hardware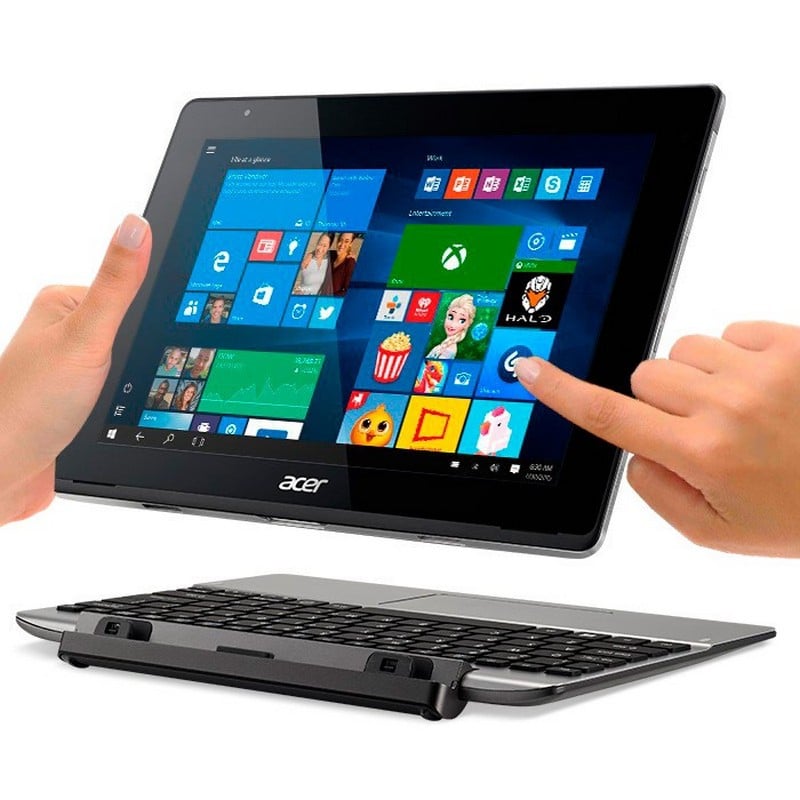 Verdict
A portable laptop that is slim with an edgy design and easy to carry is something everyone wants. Acer Switch V10 is a versatile 2-in-1 laptop that comes with a budget-friendly price. The 10.1-inch detachable windows laptop comes with an Atom Processor for the best performance of the simple tasks and web browsing.
With its 64GB internal storage, you have ample space to store necessary files and backups. Its 4gb ram ensures that you run multiple tabs simultaneously without it lagging behind.
With the only limitations being not having enough ports for connectivity, which may not impress several users. The device would have added an additional USB Type-c and Type-A ports so that it can be connected to more than one device.
Besides the limitations, Acer Switch V10 convertible notebook it's a fine laptop for home users, students, corporate personnel's, and travelers because it is versatile to fit everyone's need. However, due to its small size 10.1-inch display, it may not be the best choice for gaming maniac, artists and multimedia professionals. Nevertheless, its elegant design, wonderful features, and convenience give you all the reasons to invest in it.
Acer Switch V10 comes at a reasonable amount. However, if you are in Kenya and want to buy this gorgeous gadget, you can get it at a fair deal if you buy it at the US stores rather than buying it at the local stores here. KENTEX Cargo can help you ship this laptop and get it delivered to your doorstep in a seamless process. As a result, you end up saving money and time which is a win for you.