Best Budget Laptop from the USA to Kenya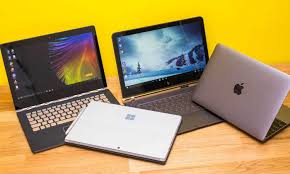 You do not need to be conned by terms such as "refurbished laptops" or "ex UK laptops", yet you can get a better laptop at an amazingly cheaper price directly from the USA compared to buying it locally.
Online stores in the USA have an ocean of options to choose from, we have taken care of you not picking a substandard machine by carefully selecting the best yet affordable in the market, the extensive research and experience we possess is enough to get you that laptop; is it for studies, professional work, gaming or both? Well… it's all here.
With much consideration of your taste, we have picked one that has that sleek design, performs well and has incorporated modern technology to crush that work for you.
The laptop is pocket-friendly and still performs pretty well. It is always recommended that you choose from some well-known brands in the market as they always have a reputation to keep. Brands such as Acer, HP, Dell, etc. are just but a few examples of brands that have been trusted over the years to produce quality laptops at pocket-friendly prices. Customers have, over the years, grown to trust these well-known brands since they are known to design laptops that will live to their standards in order not to mess up their reputations
After our intensive research, one laptop series stood out amongst other competitors to come up to the top of the list of budget laptops. This is none other than the Acer Aspire 5 Core i3 (2019). Let's delve into why you should consider this laptop, why you should purchase it from the US and have us deliver it to your doorstep.
The Acer Aspire 5 Core i3 (2019).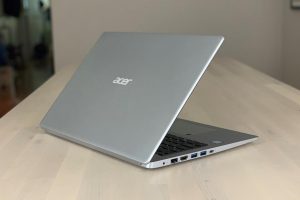 From our extensive research, this laptop topped the list of budget laptops. It has a sleek design that you can never get enough of. It is the kind of budget laptop that will leave tongues wagging and friends asking where you bought it from.
Retailing at $400 in the US, this laptop is by no doubt the best budget laptop there is. It is fitted with 128GB of SSD, 4 GB RAM, and an Intel core i3 processor. This series of Acer laptops have a mid-tier that comes equipped with 2656 GB of SSD 8GB RAM, Core i5 Processors and only costs $530.
This series of Acer laptops have a few features that we had to put into consideration. There are battery life, design, ports, display, sound systems, performance, graphics, webcam, and many others.
Its design
The pricing can be deceiving considering its premium aesthetic design coupled up with an aluminum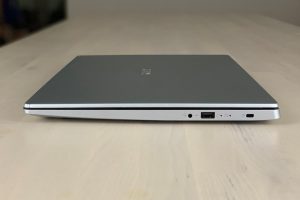 silver hood to give it an exquisite look. The metallic Acer logo has also been placed in always that makes it rise out of the hood to give it a premium fair. This replaces the boring plastic logo that has been stamped in the past.
The interior of the Acer Aspire 5 can be described as standard, meaning it has a black keyboard and a silver deck. The laptop also has an elegant Aspire logo on the hinge. The Aspire 5 has some surprisingly narrow bezels on its display which is an upside considering its relatively low price.
The laptop ways just a little under 4 pounds and is very thin compared to its 14-inch competition, the HP 14 laptop.
Port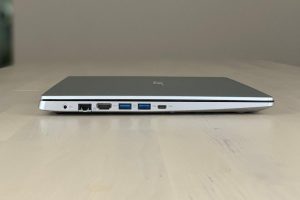 Acer designed the aspire 5 with so many different ports that serve different functions.
On the right side of the laptop there exists a headphone jack, a USB 2.0 port, a Kensington lock port. The left side features a power jack, an HDMI port, an RJ45 Ethernet port, a USB Type-C port, and two USB 3.1 ports.
Its Display
The laptop has a relatively bright 15.6-inch panel and sports a whopping 1080p resolution that is unlike most budget laptops.
It is clear that if you are watching a movie with scenes shot in the dark, you are still able to see what is on the horizon. One is able to notice tiny details such as skin pores without much straining. That is how crisp the display of this budget laptop is.
Keyboard and touchpad
The Aspire 5 Core i3 has a very comfortable and easy to use keyboard. For those whose jobs involve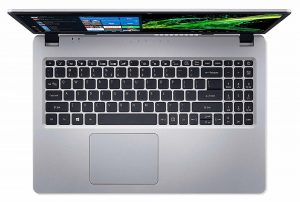 much typing, this laptop's keyboard makes it easier for you to type up to 70 words a minute. This is because the keys are considerably shallow (1.2mm), meaning they only require about 78g of typing force.
Aspire 5's touchpad measures 4.2 x 3 inches to offer ample size and a decently soft texture. The buttons on the touchpad are a little shallow, though, but that is a non-issue since the laptop is relatively comfortable to use. It also features unique Windows 10 precision drivers for gestures such as three-finger tabbing and two-finger scrolling to work as intended.
Sound system
The Aspire 5 audio system is a little mediocre, but that is expected considering its pricing. If Acer went for the audio system such as that of MacBook Pro, the price of the entire laptop would really shoot a great deal. Therefore they can only 'aspire' to have a sound system that works perfectly within the $430 budget. Acoustic guitar melodies would sound really good on this sound system although bass and other percussions would sound a little hollow.
One good thing about technology is the ability to go around a small problem. For example, if you have an issue with the sound systems, you are at liberty of customizing the audio using the built-in Realtek audio console. One can find TrueHarmony tuning in the console. Acer's TrueHarmony features 3 presets movie, game, and music. But this is no guarantee that one will still get premium-quality audio.
Its performance
For as little as $349, the laptop is fitted with 4GB of RAM, and Intel Core i3-8145U CPU that can multitask by hurdle through a couple of 1080p videos,  and Spotify running in the background 29 google chrome tabs without any form of a slowdown.
The laptop scored a whopping 8030 during the Gekbench 4.1 overall performance which is way higher than the average budget laptops scores of about 5504.
Aspire 5 core i3 is capable of transferring 5GB of data in 20 seconds which translates to an average of 250 MBs per second which is a tad higher than the average budget laptops that do 75 MBs per second.
Its Graphics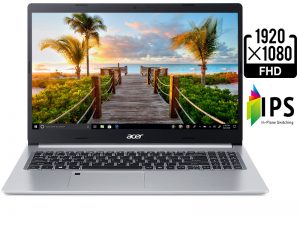 The Aspire 5 budget laptop is designed with an Intel UHD 620 GPU making it score highly on the 3DMark Ice Storm graphics. The laptop averages about 19 frames a sec which is below the average for budget laptops (30 fps). It even crashed and burned during the benchmark by Dirt 3
Batter life
This budget laptop features a really long-lasting battery that makes it offer reliable performance.  The battery can last up to 8 hours 50 minutes of continuous surfing via Wi-Fi with the display set at 160 units of brightness. This is a little over the duration taken by the average budget laptop (7hrs 05mins).
The only notable downside of the Aspire 5 compared to other budget laptops is the graphics. The laptop scores pretty low, with 19 frames per second compared to 30 frames per second registered by other budget laptops.
Conclusion
The Aspire 5 is an ideal laptop for anyone on a budget. With exceptional performance, a pocket-friendly price, a bright and crisp display, and a long-lasting battery life that will last an average workday, this is indeed the best budget laptop there is.
One thing customers do not know that local sellers usually pass down all charges involved during shipping (item clearance, insurance, and taxes)S coupled up with the profits to the customers. Hence it would be pretty expensive to purchase the Aspire 5 locally.
To bypass all these unnecessary costs being passed down to you as a customer, you should consider buying directly from the sellers in the USA. It would cost you almost half the price compared to the pricing locally. Global brands such as Kentex Cargo can help you ship the laptop to your doorstep at a standardized cost within a very short time.