Want a Gaming Laptop? Get The Best Budget Gaming PC in Kenya from the USA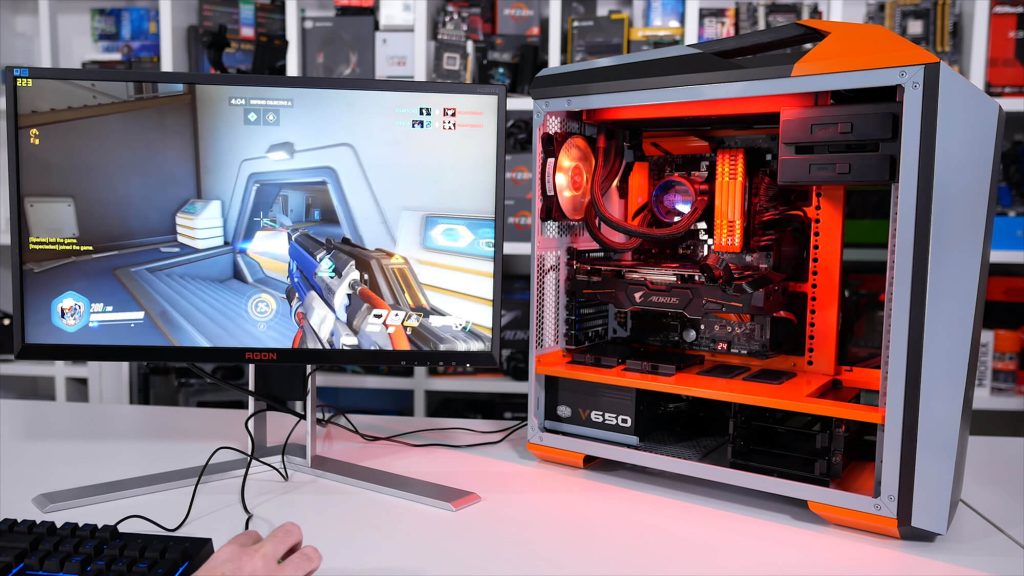 Hi friend, the fact that you are working on a tight budget, should not deny you the right to own that rig, be careful not to be given substandard PC that will spoil your gaming mood.
In Kenya, some scrupulous sellers have taken advantage of unsuspecting clients' desperate situations to sell them fake PCs in the name of refurbished or ex UK.
That person selling you that computer here in Kenya, needs to recover the money used to buy it, shipping cost and the profit, why to pay him all that while you can just buy it directly from the seller?
Just take your time and follow my lead, I'm going to tell you where those guys buy their PCs at a lower price and resale it to you at an inflated price making a super profit from your innocence.
First, let me give you a list of gaming monsters with their specification, you will select one that fits you, just send us an email or write on the comment section your choice, since they all do not come from one single seller, I will direct you to whoever has the machine, you buy from them directly, then sit back and watch the magic, the machine will be knocking at your doorsteps after a short time!
Here is the list and the first one is…
1. The Intel Hades Canyon NUC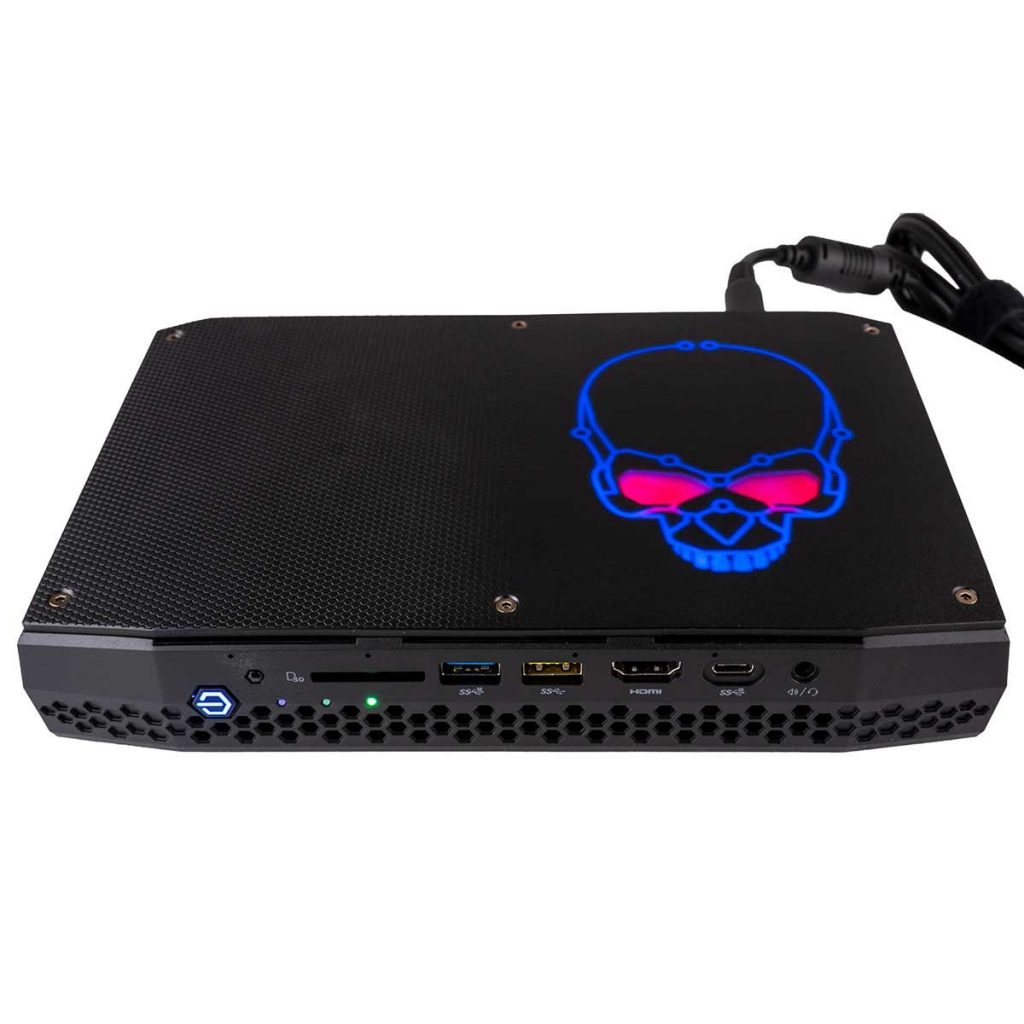 As the saying goes, you should not judge the railway by how thin it is, it carries the entire trail! the rig is small but lethal bro!
The Hade Canyon NUC is for those who want to play yet save on space, it is smaller compared to those huge towers, and almost the size of consoles. Armed with Vega graphic cards, the machine is ready to crush those modern games.
Specs;
CPU  – Core 17, 3.1 GHz that clocks up to 4.2 GHz
Graphics: Radeon Vega graphics (4GB HBM2 VRAM), Intel UHD Graphics 630
RAM:  16GB DDR4
Storage: 118GB  Optane SSD 800P, 512GB Intel SSD SATA
Ports (front): 1 USB-C, 2USB-A, SD card reader port, HDMI port
Ports (back): 2Thunderbolt 3, 4USB, HDMI, 2 Mini Display Ports, 2 ethernet ports, audio port
Connectivity: Wireless, Bluetooth,
Weight: 0.91kg
2. HP Omen Desktop PC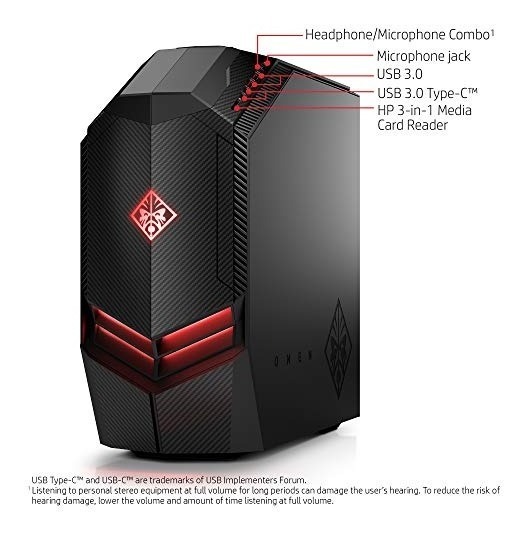 No time to think about it,  I won't say much about this machine's cutting edge design because the next one has just 'killed' it!
Equipped with modern technology and latest hardware, easy to install and a DIY upgradeable to conquer the latest high-end games, its a confirmed win for you among your peers.
Here are some features that make it outstanding among the rest:
Jaw-dropping dual graphics delivering extreme gaming horsepower, superb energy-efficiency, innovative new gaming technologies, and breakthrough VR experiences.
This machine is based on award the Based on the award-winning NVIDIA Pascal™ architecture.
You'll definitely love this machine's groundbreaking new design.
The overheating problem is solved with the meticulously crafted new NVIDIA® GeForce® GTX™ that offers superb heat dissipation using an advanced vapor chamber and premium materials, so it runs as cool as it looks.
It comes with ultra-fast FinFET and high-bandwidth GDDR5X (G5X) technologies, as well as support for DirectX 12 features to deliver fast, smooth, and power-efficient gaming experiences.
You get a superb display. Radeon RX 580 Graphics, which comes with the machine, is ready for the latest display technologies like DisplayPort 1.2 and HDMI 1.4, delivering a higher level of graphical fidelity in your favorite games and multimedia experiences. Radeon Freesync technology8 helps reduce input lag and screen-tearing.
Radeon WattMan gives you the ability a range of settings to fit your needs.
The powerful DirectX performance and Asynchronous Shaders will make you feel confident that your investment will last for years to come.
An optical PCIe SSD is up to 17 times faster than a traditional hard drive, meaning faster boot times game loading, and installations.
You are able to easily upgrade your desktop's performance because of the tool-less access
An optional see-through door and red internal lighting which show off your gear give you the ability to easily do simple maintenances for your computer.
Do you need to move your computer? This desktop comes with an integrated carrying handle giving you convenient transportation to your new spot.
Do not worry about the ports. Easily plug in your favorite gaming accessories with front, angled ports including 2 USB 3.0 Type C, 2 USB 3.0 Type A, a DTS Headphone:X out/microphone combo jack, Microphone input jack, and a 3-in-1 media card reader.
2. MSI Trident 3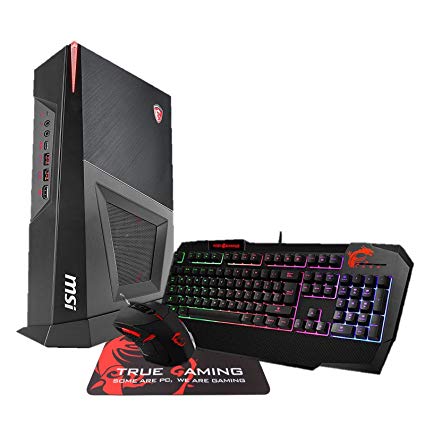 MSI has never disappointed when it comes to gaming, almost every product from MSI is tailored for tough and heavy tasks.
MSI Trident 3 has a combination of a console, a laptop, and a PC, unlike the previous versions, the Trident 3 is upgradable making machine for the future.
Specs;
CPU: Core i7-7700 3.6GHz clocks up to 4.2GHz
Graphics: 8GB Nvidia GeForce GTX 
RAM: 16GB DDR4
Storage: 1TB HDD, 256GB SSD.
Ports (front): 1headphone port, 1 microphone port, 1 USB C, 2USB A, 1 HDMI
Ports (rear):  5USB A, 3HDMI, 2Display Ports, DVI port, Ethernet port, microphone port,
Connectivity: Wireless, Bluetooth
Operating system: Windows 10
Weight: 3 kgs
4. Dell XPS Tower Special Edition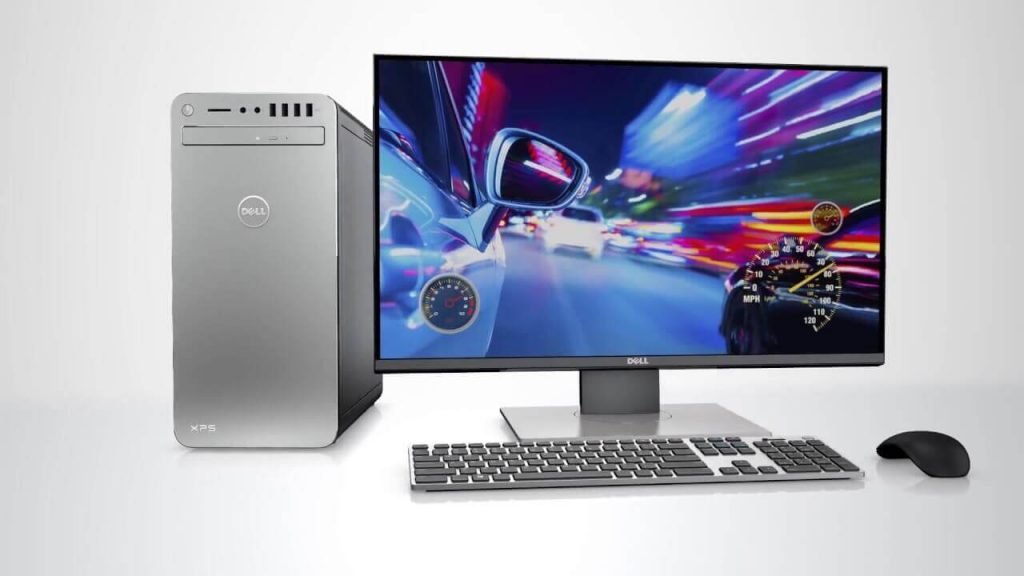 Do not be deceived by the looks, this machine is purposely mad for gaming and the enthusiasm can attest to that.
I won't say much about it but let the specifications below speak for themselves.
CPU:  Intel Core i7 3.2GHz up to 4.6GHz
Graphics: 8GB Nvidia GeForce GTX Graphics
RAM: 16GB DDR4
Power Supply: 460Watts
Storage: 1TB HDD, 256GB  SSD
Optical drive: DVD-RW drive available
Ports: 8USB ports SD card slot, HDMI port, Display Port available, Ethernet port, mic-in port, headphone-out port, audio jacks also available
Connectivity: Bluetooth
Operating system: Windows 10
Weight: 10kg
5. HP Omen Obelisk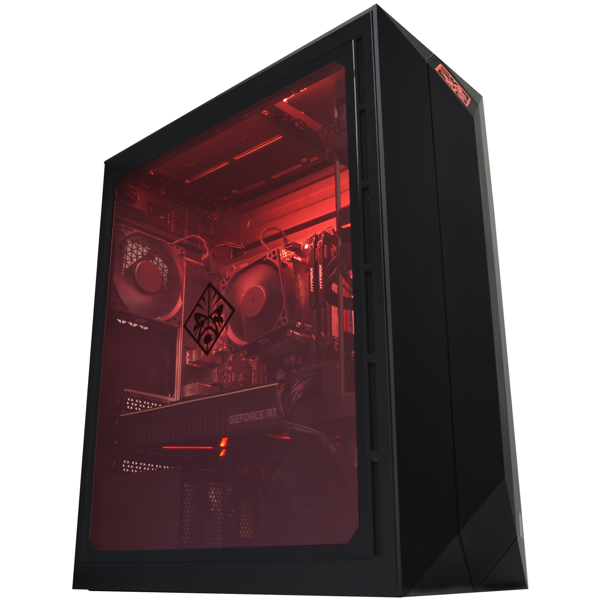 Omen obelisk is sleek, powerful and easy to upgrade.
Its components are the industry's latest assuring you of extreme user performance.
The micro-ATX makes it possible to customize this computer to your own You are able to the specifications of your choice.
The NVIDIA Geforce RTX 2080 graphics make its real while playing games or designing.
Easily get inside, with just the push of a button and manage the drives by simply sliding. No tools required.
It's able to keep up with power demands due to its power supply that comes preconfigured with 300W or 500W, but can support up to 1300W
You'll get to choose from the ample supply of all types of ports on the machine
Specs;
CPU: 8th Gen. Core i7 up to 4.6GHz
Graphics: 8GB Nvidia GeForce RTX 2080
RAM: 32GB DDR4
Storage: 1TB SATA, 512GB SSD
Ports (front): 3USB, audio port, mic port
Ports (rear): 3USB, Ethernet port, HDMI port and, DVI8 port
Connectivity: Wi-Fi,  Bluetooth.
Operating System: Windows 10
Weight: 9.20 kg
Finally, as I told you up there, you now options to select from, just let us know the gaming machine that you like, we will definitely help you bring it to Kenya at an affordable price that you will be happy about.
After picking the machine of your choice, we will eliminate brokers and middlemen by linking you directly to the seller, you will go ahead and pay for it.
You will only pay for the shipping fees after the item has arrived in Kenya and confirmed that is the one.
Its done deal!