Shop, Ship & Track Your Packages From the Seller to Your Hands.
A Step-by-Step Guide
You can now shop at any store in the USA and track your packages from the seller all the way to Kenya using the same tracking number you got from the seller or logistics company.
This short article will walk you through how to ship & track your packages.
This is the option we previously called, "shipping only" that we have renamed as "Ship & Track".
This option applies when you do your own shopping and use our USA warehouse to ship your goods to Kenya
You may have already signed up to our web-app and you already have an active account.
Old portal users have already been moved to the new portal and all you need to do is to reset your password.
If you have not already done so, here are the steps.
STEP 1: Sign up to access the web-app portal.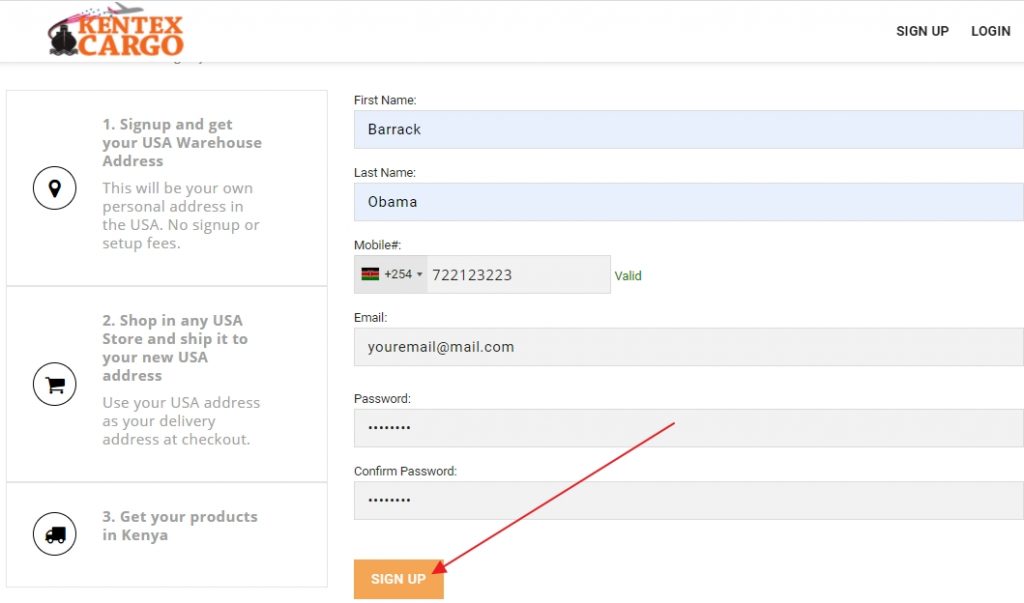 STEP 2 Verify your email address
Once you hit the submit button, you will receive an email asking you to confirm your email address.
This is the email where your shipment tracking updates will be sent.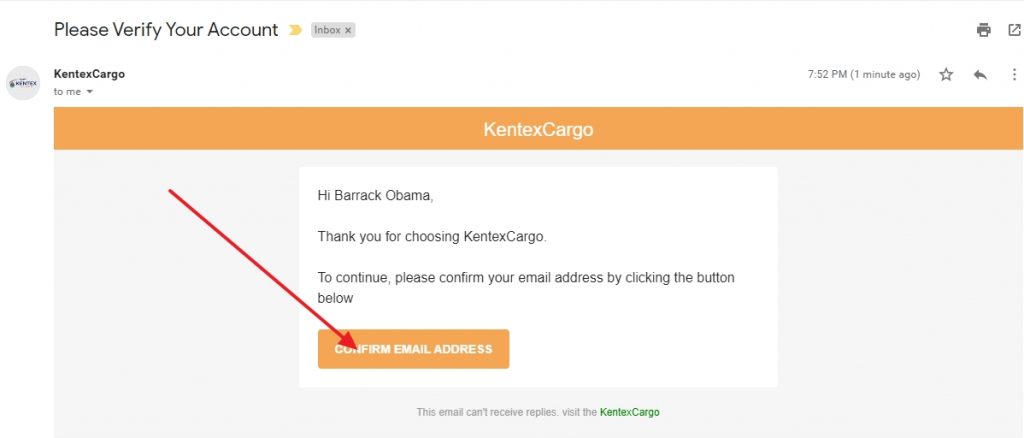 STEP 3: Log-on to Your Kentex Web App Account
Our Web-App is where you need to enter your tracking numbers every time you purchase something in the USA online.
This step is very important because carriers may lose your packages or misdeliver and still mark them as delivered.
Important:
Our clients expressed concerns that their phone numbers are being exposed to the public during packages' transit and some of them nearly fell for con-scams posing as either customs agents or as Kentex Cargo.
Such scammers called our clients asking for money as customs agents or as if they are calling from Kentex Cargo.
Never use your phone number again when shipping – It is not safe.
To protect your privacy, we are assigning a unique code instead of using your name and phone number. This unique code identifies you.

STEP 3: Enter Your Seller Tracking Number(s) in our Web-App
Click – Add Package tracking. This will open a page where you will enter your tracking number details.
Select the carrier. There are many carriers within the US but the major ones are

Amazon logistics. Tracking numbers for Amazon logistics starts with TBA
How to get your amazon tracking number:
Log in to your Amazon account and click "Track Package" next to the order(s) you placed on Amazon. You will see a tracking number starting with TBA.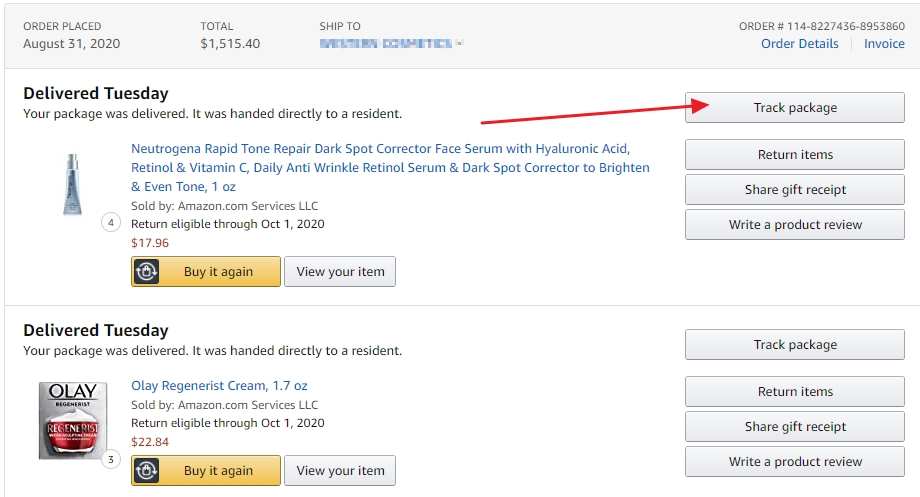 Copy/Paste the tracking number in your web-app portal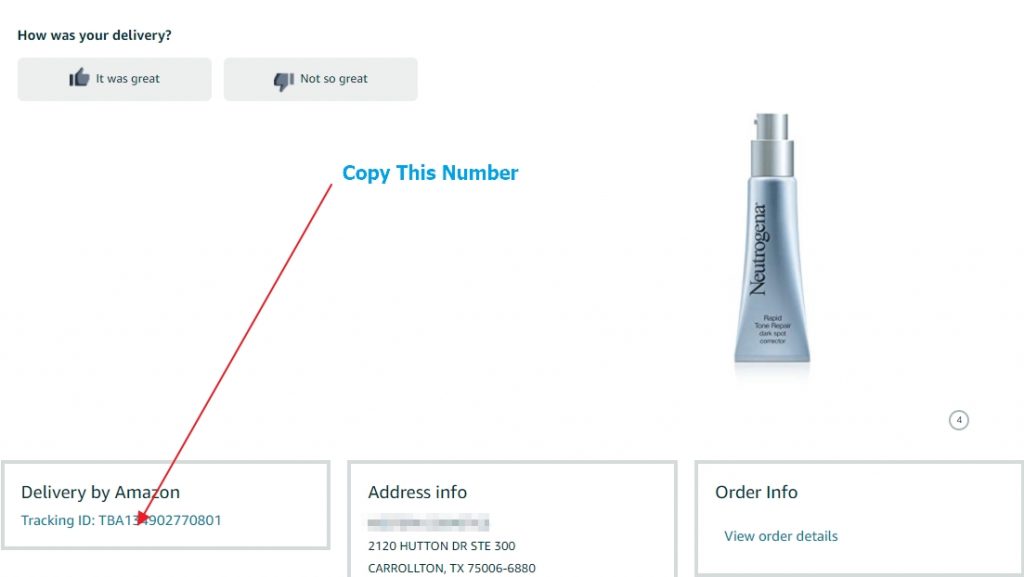 If Amazon outsourced shipping service from USPS or UPS, you will still find their tracking numbers there. You just need to copy/paste that number and paste it in slot #2 as shown above.
United States Postal Service (USPS) > Usually a long 22-27 numeric code.
United Parcel Service (UPS) > Usually starts with 1Zxxxxxxxxx
FedEx > All numeric numbers, about 12 digits
DHL > Varies
Others
Choose your package receiver:
If you are in Kenya ordering your own stuff, you will be the receiver by default.
If you live in the diaspora or if you are ordering on behalf of someone else, click on the green button "Add New Receiver
Enter the receiver details and where they are located.
In our next update, you will be able to select delivery options for you and/or your receiver, either office pickup or Fargo Courier delivery.

The office pickup option will allow you to choose the date and time slot. This will literally make the pickup process happen in less than 5 minutes.
The delivery option will authorize us to release your packages the same day they are received from the US if paid for or as soon as they are paid for.
What Happens in the Back end?
Your seller/carrier will ship your item to our US warehouse address.
It is especially important you enter all your tracking numbers in the web app. Occasionally, carriers misdeliver to the wrong address or lose products.
If you do not put your tracking all your tracking numbers in the web-app, you will not be able to tell if the item was misdelivered or lost. We cannot know what you have bought and shipped unless you fill out this form.
Carriers may still mark it as delivered even when it has been misdelivered to an address next door or down the street.
Your items arrive in our warehouse and we scan the tracking number you indicated. You get a real-time email & or text message notification.

Your items immediately enter the processing phase where we make sure goods shipped are in compliance or not prohibited
We countercheck the items you indicated against items received.
If your items count matches and not prohibited, they are packaged and shows as "ready for shipping"
Inaccurate description or failure to properly declare your goods will put your package on hold until the issue is resolved.

Your package(s) are scanned out as shipped: You get an email and/or a text message with a clear estimated date of arrival.

In case of any issues like delays, you will get personalized email and text message communication regarding specific items affected until you receive them.

Your packages arrive in Kenya and scanned: You get an email and/or text message communication with clear delivery instructions.

If you chose to pick up packages from our warehouse, you will see a calendar that allows you to choose your availability.
Once you have selected the date and time, our staff will have your package ready on selected date and time.
Key points:
Our web-app is up and running as it should and we will keep tweaking it to accommodate your unique needs.
You will never have to expose your private phone number to the public. We have designed a better and safer way to address your packages
It is particularly important to make sure you enter each tracking number you get from your sellers and suppliers into our web-App. This will help us countercheck if your packages are lost in transit or misdelivered to the wrong address. Your carrier will still mark them as delivered.
We are reducing transit time significantly such that you can make orders from home, enter your delivery instructions, and have them come straight to you with seamless real-time communication.